How Living in the Mountains Can Make You Happier and Healthier
Many people dream about retiring in the Blue Ridge Mountains of North Carolina – a place where you can fill your lungs with fresh air and surround yourself with natural beauty and open spaces. But mountain living is much more than stunning scenery, expansive Carolina blue skies and breathtaking panoramas – it also has a powerful positive effect on physical and mental health.
Health benefits of mountain living
Studies and anecdotal evidence show living in the mountains offers much more than breathtaking views and soaking up the scents and sounds you can only experience outdoors. Spending extended periods of time at a higher elevation also promotes health and happiness – and perhaps even a longer lifespan.
Health benefits of spending time in nature
But just being surrounded by a natural environment is good for your health, even if you aren't physically active. Being in nature provides more therapeutic effects than exercise alone. Spending time outdoors provides endless opportunities for inspiration and reflection while supporting healthy aging. The health benefits of spending time in nature are numerous:
One of the "dreamiest places to retire, relocate and relax"
Nestled in the Blue Ridge Mountains of western North Carolina, Morganton blends natural beauty, small-town community spirit and just the right amount of city life in an easy-to-navigate, 20-square-mile footprint. And with Charlotte and Asheville just a little over an hour away, residents are still within arm's reach of big-city life and an international airport.
With scenic landscapes, incredible outdoor adventures, unique shopping and dining experiences, a thriving downtown, professional theater and a lively and growing art and music scene, it's no wonder Our State magazine calls Morganton one of the "dreamiest places to retire, relocate and relax."
The city offers all the health benefits of living in the mountains, but with smaller crowds, milder temperatures, less congestion and lower costs. Dubbed "nature's playground," Morganton boasts an ample supply of scenic views, natural beauty and outdoor recreation experiences that were once limited to weekends and vacations.
Things to do near Grace Ridge
From greenways and walkable trails with waterfall views to crystal clear lakes and majestic mountains, recent retirees and active seniors can spend time in nature while reaping all the health and wellness benefits of mountain living. A few activities include:
Take  a drive on the Blue Ridge Parkway, one of America's most famous and scenic highways
Explore the breathtaking overlooks of the Appalachian foothills
Gaze in awe at the 1,200-foot-deep Linville Gorge
View wildlife in its natural habitat at Grandfather Mountain
Cool off at the 80-foot-tall High Shoals Falls in South Mountains State Park
Zipline at the Catawba River Greenway
Kayak or canoe along the picture-perfect shoreline of Lake James
Take your bike for a spin along the Catawba River Greenway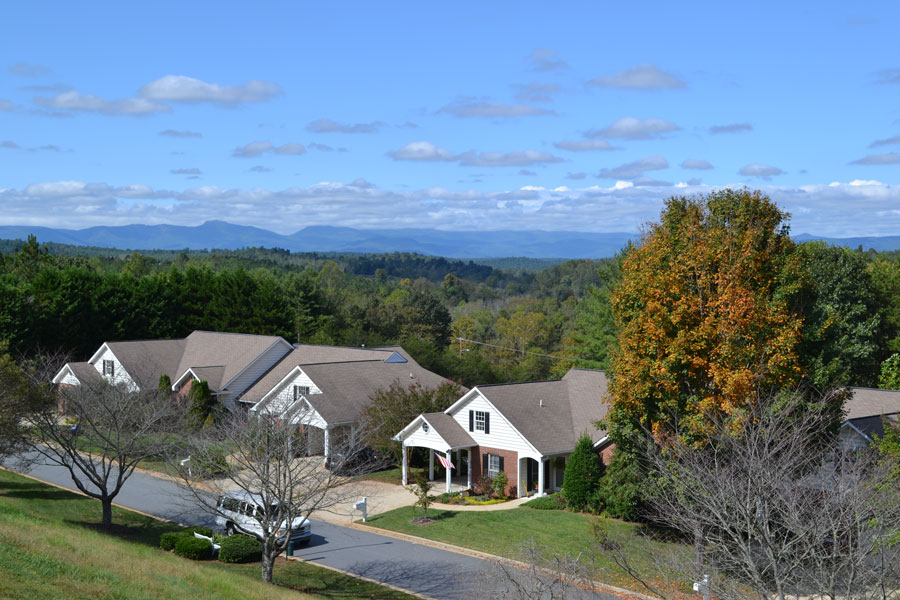 Live your dream of retiring to the mountains
Grace Ridge Retirement Community's intimate 52-acre campus complements Morganton's idyllic small-town mountain community vibe while fostering a lifestyle of total wellness. Our inclusive and inviting continuing care retirement community blends the great outdoors with active senior living and Southern charm.
Residents living in our senior cottages and independent living apartments enjoy bright, open spaces filled with fresh mountain air.  Sweeping panoramic views of the Blue Ridge Mountains and Catawba River valley are filled with forests of trees, patches of farmland, outcroppings of stone on high mountainsides and mountaintops, and breathtaking sunsets with skies filled with stunning shades of yellow, orange, red, blue and lavender.
Situated between Asheville and Charlotte, Grace Ridge also offers easy access to vibrant city life. With just over 200 residents and everything you need under one roof, it's easy to fit right into our mountain haven for active, thriving retirees – a community of explorers, seekers, learners, thinkers and doers. Your dream retirement in the mountains awaits at our recently renovated community. Contact us today and schedule a visit.