What Adult Children Should Know About CCRCs
Understanding the Ins and Outs of Continuing Care Retirement Communities
Let's start with a few questions — What is a CCRC? How do CCRCs differ from other senior living options? What do I need to know if I'm considering CCRC senior living for my loved one?
In the most basic terms, a continuing care retirement community (CCRC) is an independent senior living community that also has an on-site continuum of care. Additional levels of senior health care services or long-term care can include assisted living, skilled nursing, memory care and even senior rehabilitation. 
Residents at a continuing care retirement community can move from independent living to a residence within one of these parts of the on-site senior health care continuum if and when health needs change. Because CCRCs have an expanded senior care offering on their campuses, there are sometimes also options to receive additional support within a person's independent living residence.
Many people are attracted to the fact that moving to a CCRC when they're still healthy gives them the peace of mind that they won't need to move to another community, even if their health needs shift over time.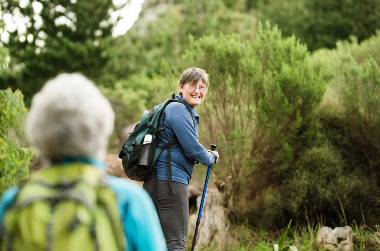 The Benefits of a CCRC for Seniors and Their Families
What separates CCRCs from other senior living options is certainly the more all-inclusive nature of services they provide. But that all-inclusive nature doesn't only pertain to senior care. There are plenty of other life-enriching benefits as well.
Because the majority of residents join a CCRC when still independent, these communities focus on surrounding residents with chances to stay active, continue learning and remain socially engaged. Having this kind of well-rounded, wellness-minded community lifestyle at their fingertips can have a positive impact on overall health and happiness over time.
By keeping nearly anything a resident may need easily within their reach, CCRCS can also provide protection from the uncertainties of the outside world. Now more than ever, the concept of having a community that can consistently support and safeguard its residents through life's ups and downs is an appealing idea for seniors and their families.
Many people are attracted to the fact that moving to a CCRC when they're still healthy gives them the peace of mind that they won't need to move to another community, even if their needs shift over time. There's great comfort in knowing that should a resident require more long-term care, that transition will be coordinated by familiar people in a familiar place. Senior couples also gain the benefit that even if one of them begins to receive additional care, they can remain closely connected within the same community — usually just a short walk away from one another.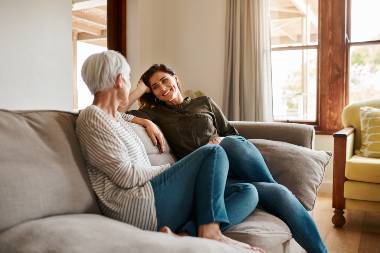 Key Considerations When Looking at a Continuing Care Retirement Community
Helping parents through the senior living decision-making process means arming yourself with useful information. It also means serving as a sounding board and helping Mom or Dad sift through the details to find the option that best suits the way they like to live.
One of the first aspects to consider is the various residence options a CCRC has to offer. Communities often have several choices of apartment floor plans, and depending on the footprint of their campus, they may also have single-family homes, cottages or villa-style residences. These different living options may require some downsizing from a current home, but they also alleviate the headaches of ongoing maintenance and other expenses associated with homeownership.
Of course, the type and size of residence your loved one chooses will impact their costs of living at a CCRC. The other main factor that determines how much a CCRC will cost is contract type. There are a few major contract types you'll find at continuing care retirement communities. 
Types A and B are most similar — often called Life Care and modified Life Care, respectively. Both require a larger entrance fee but also guarantee residents a place in higher levels of care if they ever need long-term care. The two differ in that if needs change within a Life Care (Type A) contract, a resident's monthly fee will not increase substantially, while with a modified Life Care (Type B) contract, you'll pay for care closer to or at market rates. Types C and D come with lower upfront costs or enrollment fees but also fewer assurances. These contracts may be called fee-for-service or rental agreements, and will mean the costs of additional senior health care services will be determined on an as-needed basis. Under these contracts, residents may not have the same priority access to the on-site continuum care as those who have paid the larger entrance fees. 
Some communities have also begun to introduce a Type E contract that lets residents purchase an equity stake in the residence they choose, which in essence takes the place of a more traditional entrance fee. Each of these options may offer value and should be considered during your conversations. 
To begin, you'll want to find out what kind of communities are available in your area. Compare the options  to see how they stack up when it comes to the factors that are most important to you and your loved one(s). To help in this part of the process, the AARP has collected a list of great questions to ask when you visit a community either virtually or in person.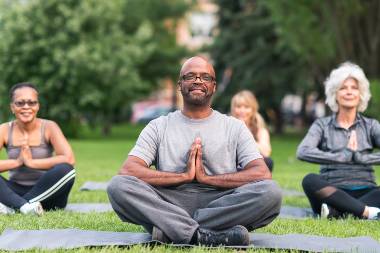 Why Grace Ridge?
Many families have found Grace Ridge to be the total package. Perfectly situated in the foothills of the Blue Ridge Mountains, closely connected to all the wonders of Morganton, North Carolina. And more than simply a great location, our community helps residents find abundant chances for total wellness from day one. They also can rest easy knowing they have the lifelong security of our full continuum of care.
Get in touch today to take a closer look at how Grace Ridge might be just the right fit for someone you love. We'll be happy to answer any questions you have about our community specifically as well as the wider world of continuing care retirement communities.