Meet Trudi Nowlin: Grace Ridge's Director of Dining Services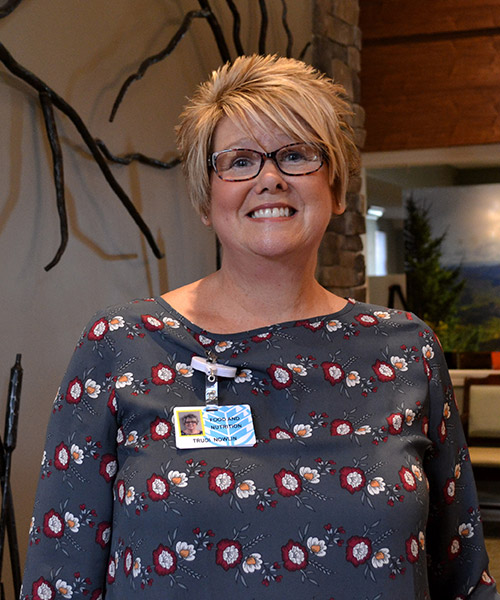 For Trudi Nowlin, Grace Ridge's new Director of Dining Services, making the move from a hospital background to senior living provides opportunities to build long-term relationships — and add some pizzazz to meals.
While leading a hospital dining program requires a focus on specialized medical diets — for example, for cardiac patients — senior living in recent years has moved more toward fine dining, with a focus on exquisite food and top-notch service.
As part of that fine dining focus, Trudi loves getting creative with food — including incorporating beautiful colors and presentations. She also enjoys putting together special events, such as Mother's Day teas for 100 women.
What about getting to know residents? That's what makes the job truly special, Trudi said.
"It's much more fun this way, for myself and the residents," Trudi said. "I do the paperwork, but I'm not a sit-in-the-office type of girl. I like to be helping the staff with everything!"
As Director of Dining Services, Trudi plays a significant role in both day-to-day operations and meal preparation, including cooking. Since 1995, she has held the credentials of Certified Dietary Manager and Certified Food Protection Professional through the Association of Nutrition & Foodservice Professionals. The credentials indicate expertise in assuring food safety, managing food-service operations, understanding important principles of nutrition, creating and implementing menus, and preparing food.
Culinary Background
Trudi hails from England; after attending high school there, she earned her culinary degree. After moving with husband Dave to the United States, she worked in long-term care for 17 years and has applied her culinary management skills for Wuesthoff Medical Center in Melbourne, Florida, for the past 16 years. Over the past six years, she also has managed culinary services for a 90-residence assisted living community affiliated with the hospital.
When Trudi began looking at Grace Ridge, she and Dave were considering moving out of Florida — after 35 years there — but she wanted to stay with Morrison Healthcare. Coming to Grace Ridge gave Trudi a chance to do just that, and she and Dave loved the Morganton area.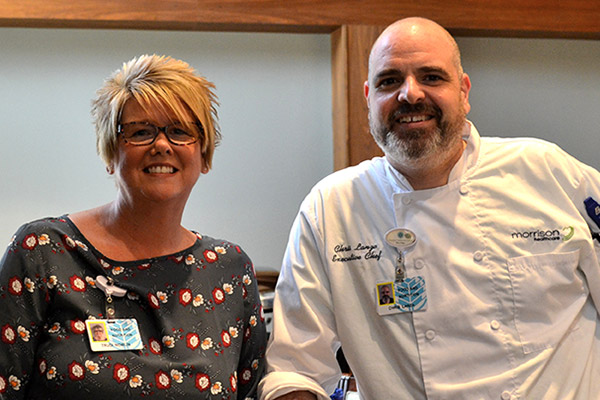 "We talked to some local people, toured the area, and had a look at Grace Ridge," Trudi said. "I just fell in love with the community, the way it is, the mountain views. The people were so nice and friendly when we were there."
Although the weather and natural beauty stand as big attractions, Trudi's main interest is getting to know the residents of Grace Ridge.
"I'm really excited about my move," she said. "I can't wait to go there and make a difference. (Residents) have so much to offer, their experiences, their conversations."
You might think that in her spare time, Trudi would choose to dine out, but it's just the opposite; she loves cooking and does a lot of it at home. She often makes the English dishes that Dave enjoys, including shepherd's pie and bangers and mash. She also enjoys creating crafts, and she tries to walk 5 miles each day.
Her family also includes Elsa — a German shepherd — and two cats, Molly and Winston, named after Sir Winston Churchill. All three will be making the move to North Carolina, and Trudi thinks that Elsa, especially, will love the change in scenery and weather.
Trudi has one additional hobby that helped inspire her love of putting on formal teas. "I'm a big fan of the royal family, and I collect tea cups and china, some dating to the 1850s," she said.
The teas are just one special event Trudi has planned as she gets to know the residents of Grace Ridge, and she's looking forward to building long-term relationships. "It is a really fascinating age group, and that's where my passion lies."