Grace Ridge Hits the Road for Tasty Treats, Tea & Tai Chi
What's the next best thing to exploring Grace Ridge Retirement Community in person? Having the Grace Ridge team come to you!
Outreach and Sales Director Jeff Bright, Wellness Coordinator Kelli Harris Huggins, Executive Chef Jon Lindsay Kirby and Outreach and Sales Assistant Lisa Miller loaded up the Grace Ridge van, aka Beauty, and headed to Belmont recently for a Tasty Treats, Tea & Tai Chi community outreach event at Daniel Stowe Botanical Garden.
A Community That Feels Like Family
Bright kicked off the informal gathering of active retirees with an overview of what Grace Ridge is … and isn't. "We're not a real estate company and we're not a nursing home," he said. "What we do is provide insurance that allows you to enjoy your well-deserved retirement. You've worked all your life, and now, it's time to let us take care of you."
What sets Grace Ridge apart from retirement communities in bigger cities is its intimate and home-like atmosphere. "Right now, we have about 200 residents from all walks of life," he said. "Everyone is welcoming and friendly and says hello. We truly are part of a community that feels like family."
Bright also outlined the affordable care plan options – LifeCare, Modified Care and Fee-for-Service – and described the variety of residences available, from spacious villas to cozy apartments. He noted that homes can be tailored for individual styles, and residents who require additional care can seamlessly transition to assisted living, skilled nursing or memory care.
He added, "Being a part of the Grace Ridge family means living an active, fulfilling life shared with friends and loved ones. We want to help our residents stay that way for as long as possible."
The congenial feeling continued when Huggins talked, while giving a Tai Chi demonstration, about Grace Ridge's Good Moods programs that foster well-being of the mind, body and mood.
"We offer much more than a wellness program," she said between mindful breaths and movements. "Every activity, program and event enhance at least one aspect of your overall well-being, so you can truly enjoy an active, fulfilled retirement lifestyle."
Culinary Delights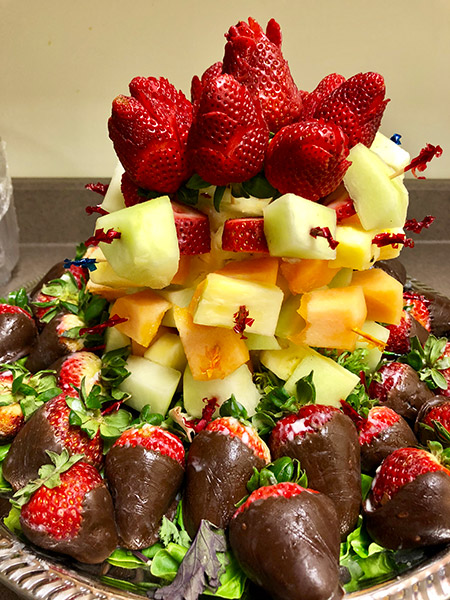 Guests also had a chance to sample kombucha infused with lemongrass grown at Executive Chef Kirby's own farm, as well as a beautiful assortment of caprese skewers and fresh fruit. The chef's chocolate dipped strawberries were such a hit that a couple of guests took some home with them.
Chef Kirby said the culinary team strives to go above and beyond in the way they prepare food, getting to know residents' preferences and dislikes, using local and regional ingredients whenever possible and customizing menu items.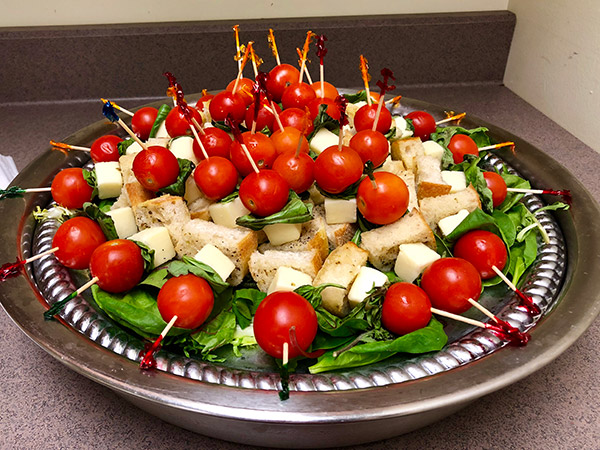 He told the story of a Grace Ridge resident who used to live in a retirement community in another state. She was allergic to garlic and had to eat out for nearly every meal because the large community wasn't able to accommodate special dietary requests.
"That's not how we do things at Grace Ridge. We pride ourselves on serving restaurant-quality, fresh plated food for every meal to all of our residents," Chef Kirby said. "There's a reason why our residents like to say we're the best restaurant in town."
We Take Requests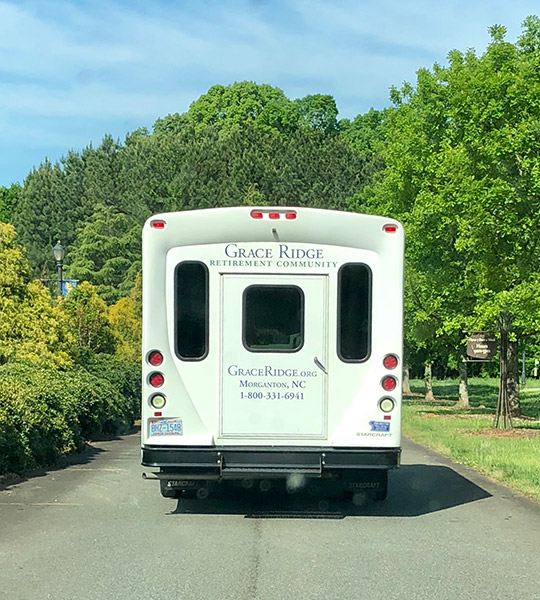 We'll have additional Tasty Treats, Tea and Tai Chi events this year, so be sure to keep an eye out on our Upcoming Events Facebook page or Good Times at Grace Ridge webpage for details. Want the Grace Ridge team to come to YOUR town or city? Contact us!