Sky's the Limit for Grace Ridge's Concierge Services
Grace Ridge assisted living resident and retired judge Sam Tate needed help flying from Charlotte to Norfolk to visit his daughter and son-in-law for the holidays.
Enter Kathy Staton, a former deputy clerk and recent retiree who joined the concierge team in December. Not only was Staton familiar with Grace Ridge through her previous volunteer work and trip with the travel club, she knew the judge as well.
"I worked with Judge Tate on and off over 10 years in the Burke County Courthouse's District Court and always thought he was an awesome person," she said. "When the request came to help get him to the airport and on a flight to Virginia, I was plum honored."
On the day before the trip, Staton helped pack Tate's suitcase, got his medications together and made sure he had his ID. When fellow concierge Alan McGalliard and Staton arrived at Tate's apartment the next day, they said he was bouncing around, smiling, humming and looking forward to seeing his family.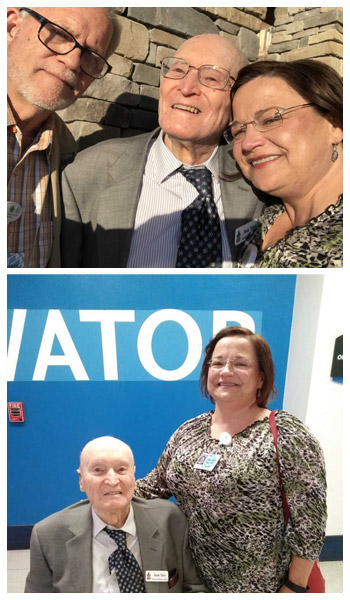 Peace of Mind for Residents & Families
At the airport, the duo secured Tate's boarding pass and guided him through security and to the gate. "I texted his son-in-law a picture of him getting on the plane and said, 'He's coming your way!'" Staton said.
The family loved the convenience of someone handling all the details from Tate's end and then being able to provide that same exceptional service on his trip home. "Kathy and Judge Tate perfectly aligned because of their history together," said Evelyn Beaver, life enrichment director. "The family members were extremely pleased with the service and said the concierge program is a great deal because it gives families and residents so much flexibility."
From Church Services to Scenic Drives
Staton said she's enjoyed her time as a concierge because it allows her to do the thing she loves most – helping others. She recently drove a large group of residents to a funeral service at Quaker Meadows Presbyterian Church, where she also worships. Other outings have included the symphony in Hickory, shopping at Wal-Mart and Ingles, and a doctor's appointment in Concord.
One independent living resident asked Staton if she would drive her around in her prized possession – a blue Volkswagen bug. Once insurance coverage details were ironed out, Staton got the green light. "I'm so excited to be able to do this for her. She loves her bug – it's part of who she is – and this is a chance to help keep her independent by getting her off campus and out on the open road."
Another resident took a drive to downtown Blowing Rock in the Grace Ridge bus, aka Beauty. "I asked the concierges to take her to lunch and make the day really special for her," Beaver said. "When they brought her back, I asked how her trip was. She just beamed from ear to ear and said it was magical."
Meanwhile, some residents opt for companionship and a helping hand around their apartment or cottage. "We just signed up a resident who wants assistance with light housekeeping, laundry, shopping and making breakfast – and the best part is, his insurance policy will cover it," Beaver said.
---
Search for Driver Ends with Blast from Grade School Past
Beaver initially hit a roadblock when interviewing driver candidates because all were afraid to travel to unfamiliar areas. "I needed somebody who would be comfortable taking residents to Charlotte, the airport and other places outside of Morganton because that's a huge part of the job," she said. So she called Burke County Chamber of Commerce to see if any of their trolley drivers might be interested in a side gig. They recommended Alan McGalliard – a name that sounded familiar to Evelyn from back in her elementary school days. "I called Alan and asked, 'Are you the same Alan McGalliard who used to drive Bus 51?'" He was – and he remembered Beaver! "After I realized we had that small-world connection, I asked him if he'd be interested in being a concierge," Beaver said. "He's retired now after spending his whole life as a driver so it was a perfect fit for Grace Ridge."
---
Service Line Offers Something for Everyone
Beaver has held several meetings with residents to discuss group concierge outings and individual services. As she identifies what everyone's needs are, she brings on board people with different skill sets.
"We hired someone with technology experience because we had a request from a resident who needed a computer set up. Another resident wanted someone to trim her roses and do some mulching," she said.
Beaver said she's especially excited about a recently hired concierge with home organization skills. "She'll be a perfect fit, especially as new people move in to our community or current residents need help decluttering their home."
She added, "We're trying to make connections with people and build relationships so our residents feel comfortable with the concierge program. Our goal is to keep them as healthy, happy and independent as possible, so we want this affordable service line to fit the needs of everyone who calls Grace Ridge home."
Learn more about Grace Ridge's concierge program and read our blog. To book a service or order a gift certificate, call (828) 580-8328 or email concierge@blueridgehealth.org.