Resident security "assistant" makes debut at Grace Ridge
There's a new "assistant" at Grace Ridge named SARA and her job is simple: Give residents peace of mind so they can continue living active, vibrant lives without worrying about getting immediate help if they have an emergency.
Situational Awareness and Response Assistant
SARA, which stands for Situational Awareness and Response Assistant, is a newly implemented program that integrates with Grace Ridge's current emergency and security systems. Residents wear a call pendant that notifies the appropriate first responder in real-time, while simultaneously alerting staff during emergency situations.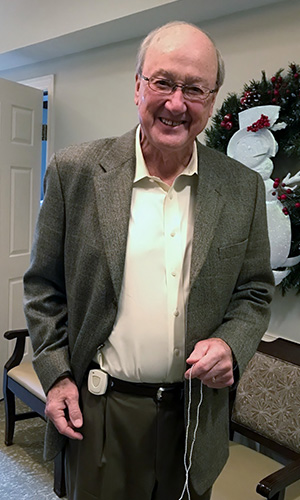 "Many of our residents are always on the go and spend a lot of time enjoying various activities throughout our campus – whether it's taking a Conductorcise® class, playing bridge or attending worship service," said Executive Director Brenda Yost. "If residents fall or have some other emergency, it's not necessarily in their bedroom or bathroom where they can use their emergency pull cord. We've enhanced our emergency call system with the installation of SARA, which is designed to work anywhere on campus."
In the event of an emergency, residents simply call for help using their pendant; the web-based system identifies their location at the time of the event. The pendant features a hands-free, two-way talking device, so if residents are unable to press the pendant they can still call for help. When a distress call is placed, it alerts a Grace Ridge first responder, who will identify the location of the call and quickly respond to that area. The system is continuously monitored by Status Solutions, which sends daily reports on alerts and the battery life of each pendant.
"The goal of implementing SARA is to improve resident safety, reduce emergency response time and encourage residents to walk outdoors and throughout our campus and feel safe doing so," Yost said. "While we highly encourage our residents to wear the pendant at all times, it's their choice as to where and how often they wear it."
According to the Centers for Disease Control, one in three adults over the age of 65 fall every year, with many sustaining serious injuries such as a broken hip or head trauma. "Our Well4Life program, in partnership with Phifer Wellness, Healthy@Home and CHS Blue Ridge Therapy, has many offerings to improve balance and flexibility, assess risk for falling and improve strength," Yost said. "The quick response and location identification offered with SARA is critical to reducing the long-term effects of a fall."
She added that enhancing technology has been a key initiative of Grace Ridge's strategic plan for the last three years. The Enhancing Technology Initiative Team, comprised of residents and leaders from Grace Ridge and Carolinas HealthCare System Blue Ridge, spent a year researching safety systems and interviewing other communities that use SARA before selecting Status Solutions.
"Safety is an important part of the Good Moods life at Grace Ridge and we're pleased with the technology we have to help our residents stay safe," Yost said. "With these new pendants, we'll know almost immediately when our residents need help and we'll be able to respond to them in a matter of minutes."