Resident Spotlight: Meet Mike and Debbie Cloy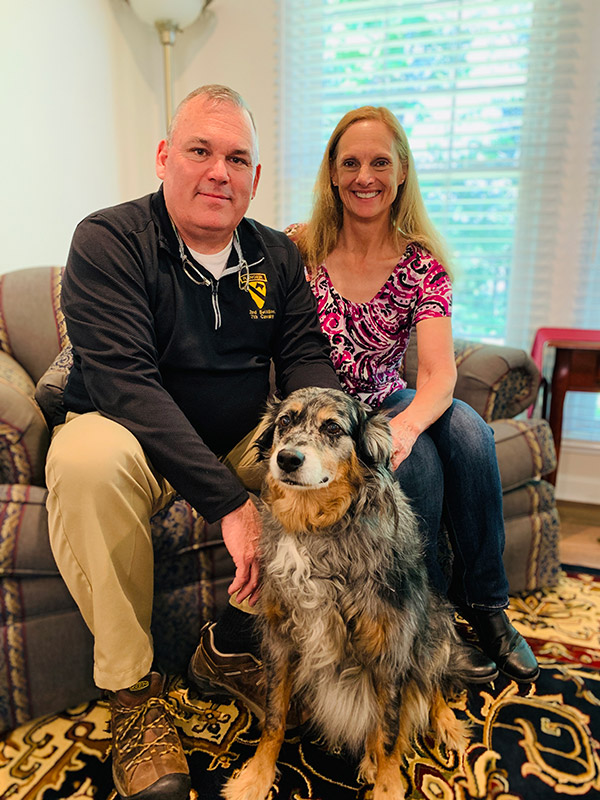 Hanging in the kitchen of Mike and Debbie Cloy's cottage is a display of 16 wooden hearts representing all the places they've lived over the last 27 years. The bottom heart reads "Morganton, NC," and after living their best life the last 5 months at Grace Ridge Retirement Community, the couple has no plans to add more.
"It's been beyond our expectations," Mike said. "Every time I see the mountain view and come around that little turn I feel like I'm driving into a secret garden. There's this sense of peace … it's quiet and gorgeous."
Aligning of the stars
At 61 years old, the Cloys didn't plan on moving into a retirement community so early. But, caring for their aging parents with dementia made them realize they didn't want their kids, Melanie and Mason, to have to worry about them in their later years.
"We decided to start planning for our health care future and get settled somewhere. That way, if we had to transition into another level of care, it wouldn't be a burden on them and we'd be in a place that's safe," Mike said.
They loved the quiet, small-town community feel of living on Lake Wylie in Belmont but knew that wouldn't last much longer – especially with 1,000-plus homes being built nearby.
After doing some online research and "comparison and analysis" of continuing care retirement communities in North Carolina, the couple narrowed the list down and started making calls and in-person visits.
"We looked at about six CCRCs and every time we talked to the residents they said, 'We should have come earlier.' That resonated with us," Mike said.
Morganton in western NC was high on the desirability list and they loved the intimate community size and standalone cottages offered at Grace Ridge. They called to see if any cottages were available. As luck would have it, there was a newly renovated and modernized cottage that was a several weeks shy of being move-in ready.
"When we saw this place we knew it was going to go pretty quickly. We thought we were going to be on a waiting list for a few years – we didn't think it would happen so quickly," Debbie said.
Added Mike, "In January we were playing around with this in our head and in February we pulled the trigger. We needed to get all the stars to line up pretty quick because we had to sell our home and get finances in order for an early March move."
Standing out from the rest
One area where Grace Ridge stood out from other communities was making Mike and Debbie feel right at home, even before they moved in.
"(Executive Director) Chris Romick, (Marketing Assistant) Lisa Miller and (Sales & Outreach Director) Jeff Bright were amazing throughout the process," Debbie said. "They were so good to us – making sure all of our needs were met and asking if we needed anything."
Added Mike, "Chris was the only executive director who took the time to come out and say hello to us. At the other places we visited, we never got past the sales agent – like they weren't going to start investing in us until we wrote a check."
Some of Mike and Debbie's friends and family questioned why they wanted to move into a community of much older adults – but they see age differently.
"The residents here are people who live their lives fully and are very active. They're so genuine and it's great to sit with them and learn all about their lives," Mike said. "When I read about Judge Tate, I went and shook his hand. That generation of folks never asked for anything – they just loved their families and sacrificed for them."
Days after moving in, the Cloys heard a knock on their front door. Standing there was neighbor Bob Erwin – with a bag of welcome apples in hand. Mike and Bob shared a laugh about them both being Army men – just in different decades. Said Mike, "I told him, 'You and I were in the same unit, but you were there two years before I was born!"
16 stations in 27 years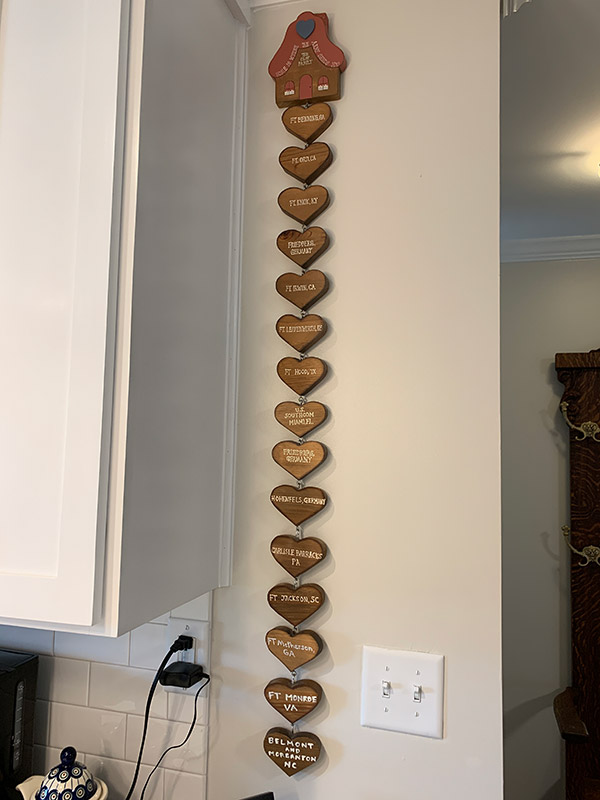 The Cloys' road to semi-retirement at Grace Ridge had many stops. After college, Mike resisted going into the military, where his father spent 33 years, because he wanted to have a "hometown experience" for his family. He earned a master's degree in physical education, but he craved a sense of adventure so he got involved in his school's ROTC program.
"I was just going to do the National Guard, but I went off to do some training and they ended up offering me an active-duty slot," he said.
Mike served five years in combat zones: twice in Iraq and in Kosovo, El Salvador and Honduras. He retired as a colonel in 2008 and now helps homeless, unemployed veterans get back on their feet by helping them find jobs and housing. Mike's office is in Asheville, but he mostly works from home as Assistant Director of Housing and Employment for Veterans Services of the Carolinas, a division of Asheville Buncombe Community Christian Ministry.
Debbie, who has a nursing degree, works part-time at Shining Hope Farms in Mount Holly as a certified therapeutic riding instructor for clients with special needs and disabilities. "We teach riding skills and horsemanship, which ultimately helps clients be more independent in day-to-day skills," she said.
The horse lover – her current ring tone is neighing – started working at Shining Hope 11 years ago as a volunteer. "I came home and said, 'I found the perfect place to work.' I didn't care if I just cleaned stalls, I knew exactly where I want to be."
It all started with a horse
The Cloys met in 1974 as high school sophomores. Debbie made the first move by asking Mike if he wanted to go horseback riding. Well, she didn't actually ask him. In true shy teenager fashion, Debbie asked a mutual friend to ask Mike if he was interested – and he was.
"She asked me out to ride a horse and that was it. I was done," Mike said.
The couple did the long-distance thing for four years while Debbie was in college in California studying to become a veterinary assistant and Mike was in Mississippi working on a degree in education of the deaf. Mike and Debbie sustained their relationship the "old-fashioned way" – writing letters, making occasional phone calls and seeing each other over Christmas and summer breaks. They married in 1980, just three days after Mike graduated.
Settling into the good life at Grace Ridge
The couple loves spending time with their eight grandkids, walking their 12-year-old dog, Sky, antiquing, and exploring and dining in downtown Morganton, located just 2 miles from Grace Ridge. While work and family keeps them busy, they look forward to becoming more involved in the community. Debbie takes a weekly yoga class and they both serve on the Educational Fund Committee.
"We love the fact that people here do things together like trips and social hours. For us, it's not really about the amenities, it's about the people – having fun together and being engaged while still having our privacy," Mike said.
With so many moves under their belt, the Cloys have unpacking down to a science – especially Debbie, who's anxious to get everything hung up on the walls and turn their basement into a playroom for the grandkids.
Said Mike, "I have to tell Debbie to slow down. We're not going anywhere."