Dishing with Chef Lanza: 5 Questions with Grace Ridge's New Executive Chef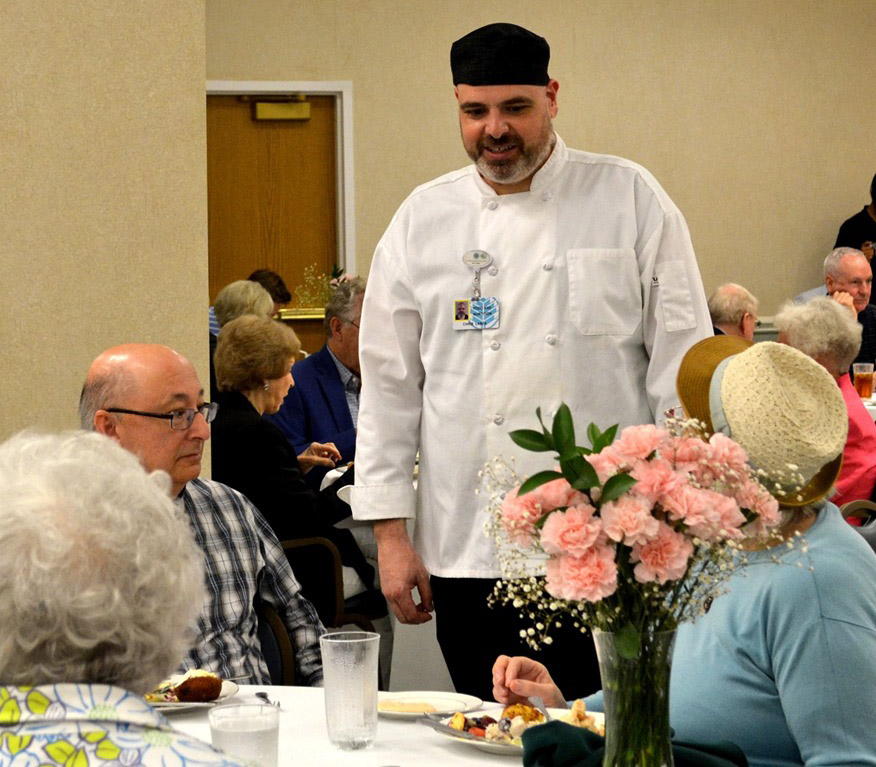 Ten years ago, Chris Lanza traded life on the back nine to life in the kitchen. He left his dissatisfying career teaching professional golf and took a dishwashing job – eventually working his way up to executive chef of a fine dining restaurant in Kent, Conn.
Earlier this year, Lanza relocated to Granite Falls with his wife, Jenn, and the couple's dog, cat and fish, to be closer to his parents in Hickory. He joined Morrison Community Living and became Executive Chef at Grace Ridge in April. We chatted with him recently about what it's like cooking for residents, what he loves to eat and what's happening behind the scenes in the retirement community's kitchen.
Tell us about your path of learn-by-doing method of cooking.
There was no grand plan. I was frustrated with my career and life path, so I took a job as a dishwasher and worked my way up to prep cook, then lunch cook, dinner cook, sous chef and finally executive chef. All my training was in real restaurants and I'm so grateful for all the chefs I've had the gift of learning from. The best chef I ever worked for told me it was his job to teach me everything he knew. I take that to heart today: It's my job to foster and teach every member of our culinary team.
What's it like cooking for 200 seniors? Any specific challenges?
The residents have excellent and sophisticated tastes and preferences, so it's been a very easy transition. I haven't rolled out any Indian food yet (one of my specialties), but maybe one day. The most challenging part has been the differences between the main dining room and health care center.  We use the same menu, but the preparations can be very different. A dish might be a huge hit in the dining room, but not liked in the health care side and vice versa.
What culinary changes do you plan to make and what are you most looking forward to with the upcoming kitchen renovations?
I'm excited to revamp, little by little, the food we do here. Remaking and retuning our recipes. And refining our cooking techniques and execution. I'm very excited to act as an advocate, on behalf of all the residents at Grace Ridge, in the kitchen redesign process. New Dining Services Director Trudi Nowlin and I want to make sure the new kitchen meets the needs of the entire community. It will be not only beautiful, but functional! The new kitchen will let us expand our selections and cooking processes to better serve the varied needs of the community.
What's your all-time favorite meal? What do you like to eat at home in Granite Falls?
My mom's Sunday pasta (always pasta on Sunday!). That's why Jenn and I moved to North Carolina – to be able to spend time with my parents every week, instead of twice a year. Usually it's cavatelli pasta with a simple tomato sauce with tomatoes from my parents' garden. At home, my wife and I love tacos, and around town we enjoy Frankie's Pizza. I grew up in New York so I'm a pizza snob … their pizza is surprisingly good!
What's your food philosophy?
Comfort and love. The "love" comes from using only quality simple ingredients, prepared with care. The "comfort" is found in traditional homestyle dishes, elevated to a new level. My goal at Grace Ridge is  to deliver restaurant quality food and service to each resident – because they deserve it.