Mother & Daughter Enjoying Life as Retired Roomies
When Nancy Hendrickson, 65, and her mom, Jeanne, 94, were holed up in a hotel room after evacuating from Hurricane Irma last September, they began fantasizing about hurricane-free places to move.
"I never liked living in Florida anyway and wanted to go somewhere with less traffic, decent weather and a little bit of all the seasons. I knew mom didn't want to live in Kissimmee anymore because it was too hot and humid and she was tired all the time," Nancy said. "We asked ourselves, 'What about North Carolina?'"
And so began a seven-month search for a retirement community where mother and daughter could live together for the first time since Nancy headed to college.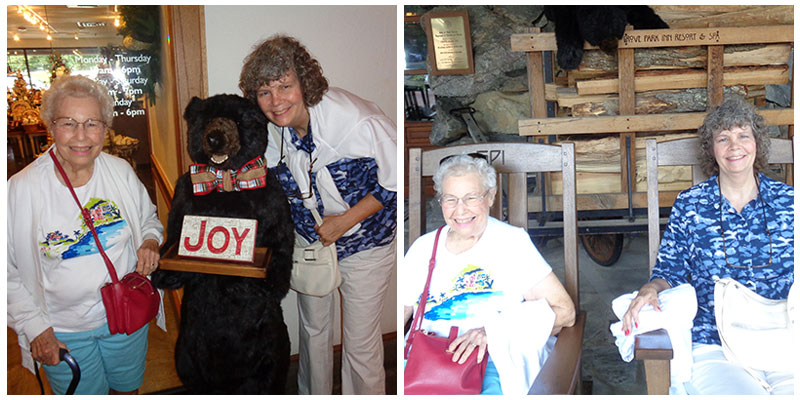 Retirement choices, choices, choices
Nancy took her relocation homework seriously and researched more than 50 retirement communities online before deciding to visit four in person. The Hendricksons' decision to move in together was a financial one, so affordability was at the top of their checklist.
---
Retirement Community Tips
What advice do Nancy and Jeanne have for older adults looking for a retirement community in North Carolina? While Jeanne is quick to respond, "Come here!" Nancy offers a more deliberate answer. "There are a lot of questions you need to ask other than 'Are the people nice?' and 'Can I afford it?' Make a list of the things that are really important to you and make sure you get those questions answered. It's also important to stay a night or two to test the place first."
---
Other must-haves were easy access to nature, a full kitchen, outdoor space and close proximity to colleges. (Nancy worked as the manager of internal audits for a technical school with locations all over the country. "Even though I'm retired, if I wanted to get a job again I could. Plus, colleges are a great place to go and take a couple of classes if you want," she said.)
Too neglected. Too hilly. Too unfriendly. Just right.
In January, Nancy and Jeanne made their first trek to North Carolina to visit a retirement community in Burlington. They returned home disappointed after seeing it was located in a bleak neighborhood surrounded by abandoned buildings.
They continued their online search and returned to NC a couple of months later after narrowing their list to three communities: one in Hendersonville, one in Fletcher and Grace Ridge. The communities in Fletcher and Hendersonville were quickly ruled out. One retirement community had difficult-to-navigate hills and the other was dreary, musty smelling and unfriendly.
"Not one person spoke to us the entire time we were there," Nancy said. "It was too late in the day to get a hotel, so we cut our visit short. We only stayed one night and hightailed it out of there the next morning."
When they walked into Grace Ridge's lobby, they felt a special vibe. "I know we were both on the same page and we could just feel it was a good, friendly community and well-kept," Nancy said. "They set us up with these two friendly ladies, Ruth and Ann, who were just awesome and showed us all around. We both just loved this place."
Living independent lives, together
Nancy and Jeanne officially joined the Grace Ridge family on June 1. While Nancy was initially worried about losing her privacy, she said it's been a non-issue. "Mom goes to some things by herself, so I get time to myself," she said. Quipped Jeanne, "We're not attached at the hip!"
In fact, while Jeanne attends Grace Ridge University classes, takes trips with the Travel Club or catches a Saturday night movie, Nancy busies herself with the choir, working in the library and reading on the balcony.
"There's a bench here I like to eat my lunch on and just look at views of the mountains," said Nancy, adding the community's nature-centric renovations will be "right up my alley."
Together, they enjoy playing cards with the Bridge Club, watching Perry Mason and "The Chase" trivia game show and exploring the region. "There's a lot of stuff to keep us busy around Burke County and Morganton," Nancy said. "We enjoy traveling and seeing scenery and we've been to a lot of cool places."
Highlights include a surprise trip to Daniel Boone Native Gardens and Howard's Knob Park in Boone and visits to Omni Grove Park Inn in Asheville, Black Mountain, Linville Caverns and Little Switzerland. On the "must-see" list? Easily accessible waterfalls.
New retirement digs, stronger familial bonds
Mother and daughter haven't lived together under the same roof in more than four decades, so it's no surprise there were some compromises made – from cooking techniques to temperature control. Jeanne loves onions in everything; Nancy hates them. Nancy loves open windows and fresh air; Jeanne gets hot and cold easily.
Vegetable aversions aside, their fondness and playfulness with each other is evident. Jeanne described Nancy as outgoing and helpful and said she takes good care of her and worries about her – even when she shouldn't.
"'I want to do it by myself!' That's what she used to say when she was younger and I'm about ready to tell her that now!" Jeanne said.
Nancy added her mom also is very caring – which is probably where she gets it from. "We're enjoying our time together. This experience has brought us closer together."
Nestled in the foothills of the beautiful Blue Ridge Mountains, Grace Ridge is a Life Plan Community spanning 52 pastoral acres in Morganton, NC. Come for a visit and find out why our community repeatedly garners awards, high rankings and superior satisfaction ratings as one of the best retirement communities in North Carolina.