Good Moods Spotlight: Mind Games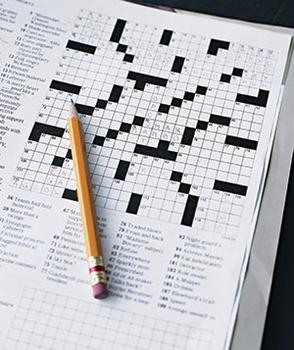 At Grace Ridge, we believe total wellness encompasses more than just physical fitness. Keeping cognitively active and socially engaged is key to healthy aging. This is why one of the most popular activities in our Good Moods program is Mind Games, our brain-teasingly fun series of weekly challenges, from crossword puzzles and mazes to word scrambles, riddles and more. A resident favorite, Mind Games is the perfect combination of brain stimulation and entertainment!
Want to try a few of Grace Ridge's Mind Games challenges?
See if you can answer any of the brain teasers below!
A camper left his campsite and hiked south for 3 miles. He then turned east and hiked 3 miles, before turning north and hiking 3 more miles where he came upon a bear inside his tent eating his food! What color was the bear? ________________________
Name three words that are pronounced different by merely capitalizing the first letter.

___________________
___________________
___________________

What are the next three (3) letters in the following sequence? J, F, M, A, M, J, J, A, ___, ___, ___
I do not have any special powers, but I can predict the score of any football game before it begins. How can I do this? ___________________________________
You are a cyclist in a cross-country race. Just before crossing the finish line, you overtake the person in second place! In what place did you finish? _______
Share your answers – and any brain teaser challenges of your own – on Facebook!