Is Memory Care the Same as Skilled Nursing?
Understanding the terms used for senior care is the first step to deciding the best choice for your loved one. In this article, we define two common care options you may have heard about: memory care and skilled nursing. To begin explaining the difference between memory care and skilled nursing, let's start with the basics: memory care is a kind of specialized long-term care for people with cognitive decline, while skilled nursing describes around the clock, high-level care services for either short-term or long-term medical needs.
The Difference Between Memory Care and Skilled Nursing: Memory Care
It's a program of specialized care for individuals with memory loss. It takes place in a secure memory care community, designed to reduce wandering and confusion, and keep residents safe while giving them a feeling of independence. Residents typically live in their own private apartments, which they can personalize with their favorite belongings. They're part of a comfortable, homelike community with secure indoor and outdoor areas, and where meals, housekeeping, laundry, and social and recreational activities are included.
Licensed memory care staff design personalized care plans for each resident, basing therapies and treatments on a person's needs and preferences. Staff members are on-site 24 hours a day, helping residents with the activities of daily living, making sure each person gets to meals, is included in activities, and enjoys their best quality of life. These highly trained staff members are also able to compassionately redirect behaviors common with memory loss, such as aggression, anxiety and restlessness.
When Does Your Loved One Need Memory Care?
Home isn't always the best choice for a loved one needing Alzheimer's care or another form of dementia care. As their illness progresses, family caregivers are often unable to manage their more advanced needs or provide them with round-the-clock care. Here are five signs that can indicate it's time to consider a memory care community.
 

Extreme change in behavior that is beyond the family's capability to manage

 

Confusion or disorientation that endangers themselves or others

 

Decline in physical health

 

Increasing incontinence

 

Deterioration in their caregiver's health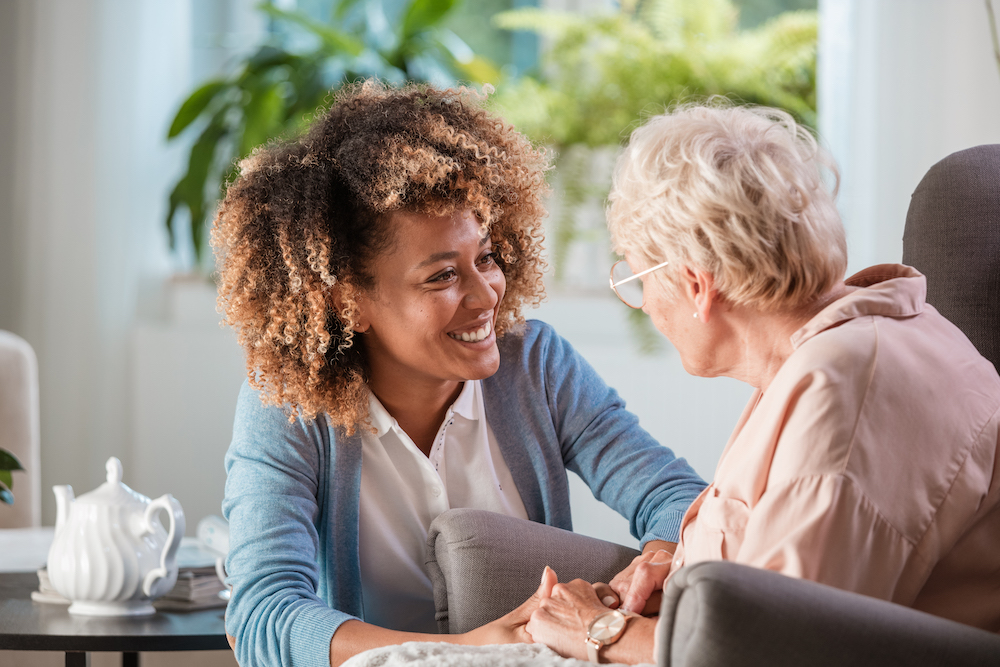 The Difference Between Memory Care and Skilled Nursing: Skilled Nursing
Skilled nursing homes are health care facilities that provide both long-term and short-term care, with medical assistance around the clock. This high level of medical care must be provided by licensed health professionals such as registered nurses and physical, speech or occupational therapists. The care covers a range of services that may include assistance with the activities of daily living, memory care and/or rehabilitation services.
A doctor may recommend skilled nursing to treat a loved one's ongoing medical condition, or as a short-term stay to help them recover after hospitalization for injury or illness. As such, your loved one receives personalized care for their unique needs. With access to many levels of professional staff, the medical care found in a skilled nursing home is the most robust you can find outside a hospital setting.
When is Skilled Nursing Needed?
It depends on the amount and type of care that a person requires. Loved ones with conditions such as Parkinson's or respiratory disease need highly specialized forms of care and/or special medical equipment. Skilled nursing provides a long-term setting that feels more like a home, where they're cared for by licensed professionals who are focused on their total well-being. For a loved one who's recovering from surgery, illness or injury, skilled nursing provides a setting for short-term care after they're discharged from the hospital but not quite ready to go home. They can receive help with everyday tasks such as bathing, dressing and medication management while they rehabilitate.   
Navigating the Difference Between Memory Care and Skilled Nursing: Life Plan Communities
A Life Plan Community, also known as a CCRC or continuing care retirement community, matches senior care services to where your loved one is in the continuum of health. They're a good option for older adults who want to avoid making multiple moves during different phases of the aging process. Because there's a wide range of services, amenities and activities in one location, skilled nursing and memory care residents have a greater sense of stability and can transition to higher levels of care if ever needed.
At a Life Plan Community like Grace Ridge, we support families and their loved ones with careful evaluations and thoughtful care plans, taking the worry out of understanding the difference between memory care and skilled nursing. Our full continuum of health care includes independent living, assisted living, skilled nursing and specialized memory care, so no matter what your loved one needs, our warm, welcoming community will feel like home. They'll have the benefit of healthy, freshly prepared meals and access to amenities such as our new fitness room, heated pool, beauty salon and barbershop. They'll enjoy senior living infused with Southern charm, in a location with stunning panoramic views of the Blue Ridge Mountains. And they'll be supported and empowered to enjoy their very best quality of life.
Learn how we can support your loved one needing memory care or skilled nursing by calling us today.