Virtual Memory Café: Helping Caregivers and People with Dementia
Everything is easier when you don't have to go it alone, and that's why Grace Ridge started Memory Café, a meeting group for caregivers and people with dementia. The comfort of merely knowing others are going through a similar situation can be enough to feel better for a moment. Add the support from a network of people who want you to succeed, and handling a situation as tender as memory loss in a loved one becomes incredibly more manageable.
If you're a caregiver for someone with Alzheimer's or another form of dementia, top-tier memory care is available for you in North Carolina. If you could benefit from the support Memory Café provides, meetings are currently being held virtually via Zoom. Contact us for an invitation.
More than 160,000 people are living with Alzheimer's disease in North Carolina, a number projected to increase to more than 210,000 by 2025. Despite the prevalence, people with dementia and their loved ones can feel isolated, fearful and even stigmatized.
The Memory Café offers a place where both caregivers and care recipients can socialize and connect with others in similar situations without feeling misunderstood. They participate in activities that include education, music, dancing and arts, all offering socialization. Research shows that these activities provide many positive benefits for people with dementia, as well as for their caregivers, including decreased depression, improved self-esteem, and increased mental and social stimulation.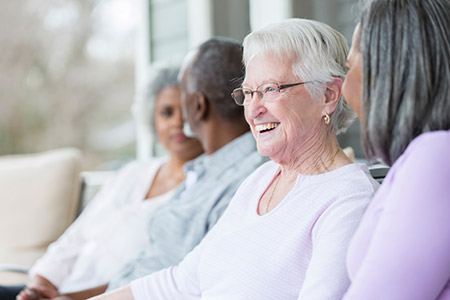 The Benefits of Socialization for People with Dementia
Socialization, which is the process of involving oneself in the happenings of society by engaging with other people, has proven beneficial for people of all ages, and its positive effects can be felt both physically and mentally. In light of the current pandemic and having to distance ourselves physically, we can still be social virtually. With video calling technology, we can even be social face-to-face.
Encourage a sense of belonging. Humans are hardwired as gregarious creatures. We need to band together to feel safe and secure. Regularly socializing is important to feel like we belong.
Practice focus and concentration to sharpen the mind. People losing memory capacity can combat the process by making the effort to use and train their brains. Conversing with another person takes effort; you have to focus on what the other person is saying to craft a reply that will move the conversation along. This practice can be especially helpful for someone with dementia.
Strengthen the connection between time and place. Having a social interaction can feel like an event of sorts. Events help us create a timeline in our memories and hang on to details like setting, time of day, and feelings associated with the interaction. This is especially important for people with memory impairment, as they may begin to lose the ability to retain such information.
Improve mental state. Socializing can improve mood, alleviate stress, and generally instill calmness and peace of mind, which can improve sleep habits and reduce anxiety.
Grace Ridge retirement community in Morganton partnered with Burke Hospice and Palliative Care in July 2016, and has since hosted a monthly Memory Café on the community campus every third Thursday of the month. The group aims to raise awareness of the disease, lower the associated stigma, and improve support for Burke County families living with dementia. The Memory Café at Grace Ridge has helped more than 300 people since it started.
For primary caregivers, a support group like Memory Café can be vitally important to feel seen and heard by other caregivers, not feel alone, and exchange information that can be helpful to fulfilling the role of caregiver.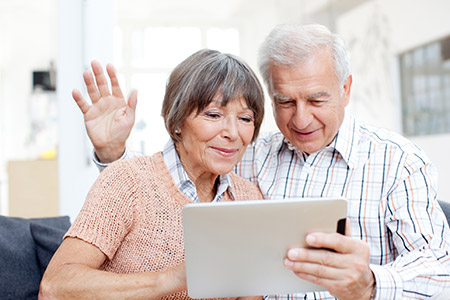 If you have a loved one with Alzheimer's or another form of dementia, Memory Café meetings are open to everyone. Given the current situation, meetings are being held virtually via Zoom. Contact us for an invitation. Grace Ridge's state-of-the-art health care center provides memory care for people with Alzheimer's and other forms of dementia.