Explore new experiences, healthy habits for National Wellness Month
August may be National Wellness Month, but at Grace Ridge we celebrate wellness in all forms – physical, intellectual, social and spiritual – each and every day.
"It's the key to healthy aging, improved quality of life and better senior health," said Kelli Huggins, wellness manager. "Every activity, program and event we offer enhances at least one aspect of overall wellbeing, so residents can enjoy an active, fulfilled retirement lifestyle."
Whether it's challenging themselves to try a different yoga pose, hiking a new trail or getting a massage or facial, residents are choosing to be well every day by discovering new experiences.
Fitness, wellness for all ages and abilities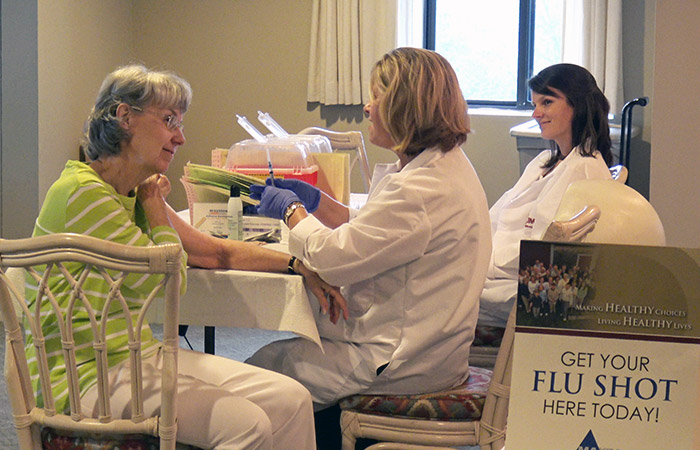 "Since keeping residents healthy and independent is our biggest priority, we host annual health screenings, provide nutritional counseling and offer routine clinical services – from flu shots to blood pressure checks," Huggins said.
In-house wellness and fitness programs include yoga, stretching to avoid falls and Ageless Grace – exercises based on everyday movements and designed for all ages and abilities.
Residents also participate in programs through the retirement community's affiliation with Carolinas HealthCare System Blue Ridge and make the most of their free memberships to Phifer Wellness Center and Mimosa Golf and Country Club.
Phifer is the largest wellness facility in Burke County and features a 25-yard heated pool, racquetball courts, massage therapy, sauna and whirlpool to relax after an invigorating workout. At Mimosa Golf and Country Club, residents enjoy an immaculate golf course, tennis courts and fine dining options.
Nature's Playground – just steps from our door
There's also ample opportunities for residents to step outdoors for some fresh air and invigorating activities: trails that lead to stunning bluffs and waterfalls, clear lakes for canoeing, greenways and mountain overlooks.
Constructed by the City of Morganton, Catawba Meadows Park hosts special seasonal events and houses a 17-hole disc golf course, athletic fields and picnic shelters. The Catawba River Greenway borders the park and is a municipal greenway that meanders along the picturesque river.
August wellness happenings at Grace Ridge
Nestled in the foothills of the beautiful Blue Ridge Mountains, Grace Ridge is a Life Plan Community spanning 52 pastoral acres in Morganton, NC. Come for a visit and find out why our community repeatedly garners awards, high rankings and superior satisfaction ratings as one of the best retirement communities in North Carolina.