Grace Ridge Friendship Garden: Good for the body, therapeutic for the soul
"Sitting in a tranquil garden is good for the body and therapeutic for the soul. Through the ages, gardens of all varieties have been revered as a place of tranquility and peace where one can escape to reflect, rejuvenate and connect with friends. Connecting with nature reduces stress, enhances memory and gives one a feeling of freedom, independence and happiness."
These thoughtful remarks and observations by Ron Martin set the serene tone for the recent Grace Ridge Friendship Garden dedication, where more than 75 people gathered under an overcast sky to celebrate a three-year labor of love – and friendship.
"Several years ago, Grace Ridge and the Blue Ridge HealthCare Foundation wanted to improve opportunities for residents to enjoy socializing in outdoor areas by upgrading an existing garden," said Martin, Grace Ridge resident and foundation board chair. "They decided the garden, which was lo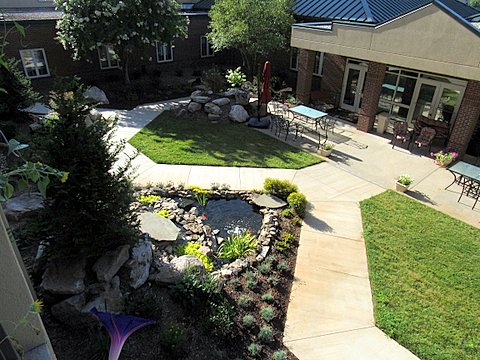 cated between memory care and assisted living, would be transformed into a more colorful, open garden area with a wider walkway and water feature that all Grace Ridge residents could enjoy."
Designed by Appalachian Naturescapes, the garden complements the peaceful and mountain lodge feel of Grace Ridge and features harvested boulders made of Virginia Fieldstone. It also boasts a variety of colorful and fragrant plants, flowers and trees, including maple, conifer, azalea, camellia and hydrangea.
"This project has been in the making for about three years. We envisioned great landscaping in this area and to make it more user-friendly and welcoming for friends and family to gather together," said Brenda Yost, executive director.
Our new Friendship Garden
More than $50,000 was raised in partnership with the Blue Ridge HealthCare Foundation through memorials and honoraria by and for residents and friends of Grace Ridge. The initial phase of the project started in August 2014, when the sidewalk was widened. Next was the addition of a beautiful koi pond, which was donated by resident Conley Mitchell to honor his brother, Harold. The finishing touches were placed on the garden in early summer.
During the dedication ceremony, Martin acknowledged the garden's major donors with the unveiling of a plaque bearing their names. "We extend our sincere appreciation to these donors for their contribution in making this beautiful garden possible for us today and all residents who will come after us," he said. "We trust that each of our residents will enjoy many tranquil hours in their new garden."
The event also marked the debut of the Grace Ridge handbell choir, which performed several songs thanks to a grant from Carolinas HealthCare System Blue Ridge volunteers. A special highlight was the performance and group singalong of the hymn, "In the Garden," which Life Enrichment Director Evelyn Beaver noted was written "for just this type of place."
The morning concluded with a touching tribute to Yost's husband, Danny, who passed away in June. The Grace Ridge management team presented Yost with a wind sculpture that was placed in the garden.
"Recently, we lost a really good friend to Grace Ridge – a kind and gentle man who often spent time volunteering here, whether he was hanging plants at the gazebo or hanging lights at Christmas," Beaver said. "Each time you come to this garden, you can think of Danny."