Retirement Community Bottle Cap Project in Morganton, NC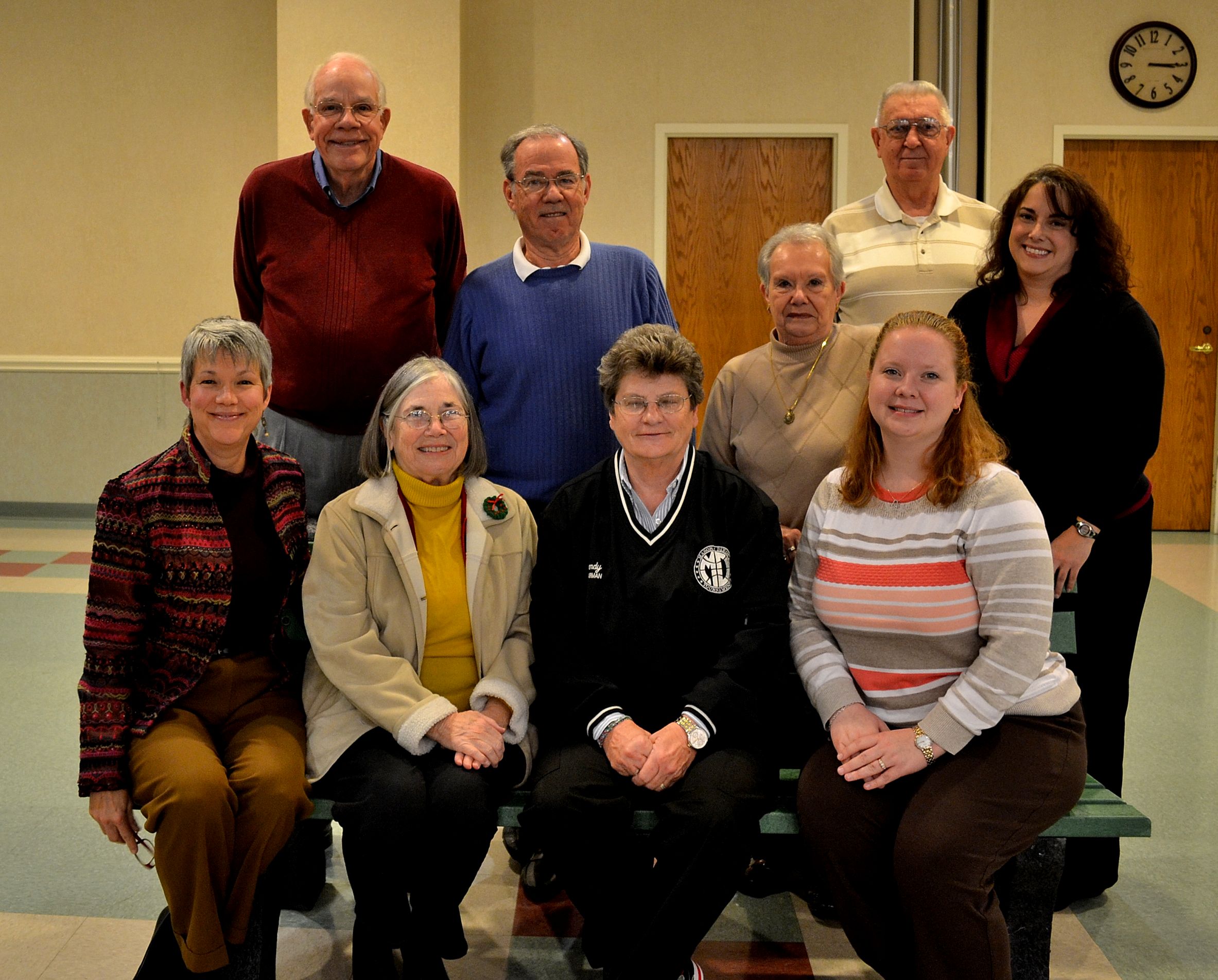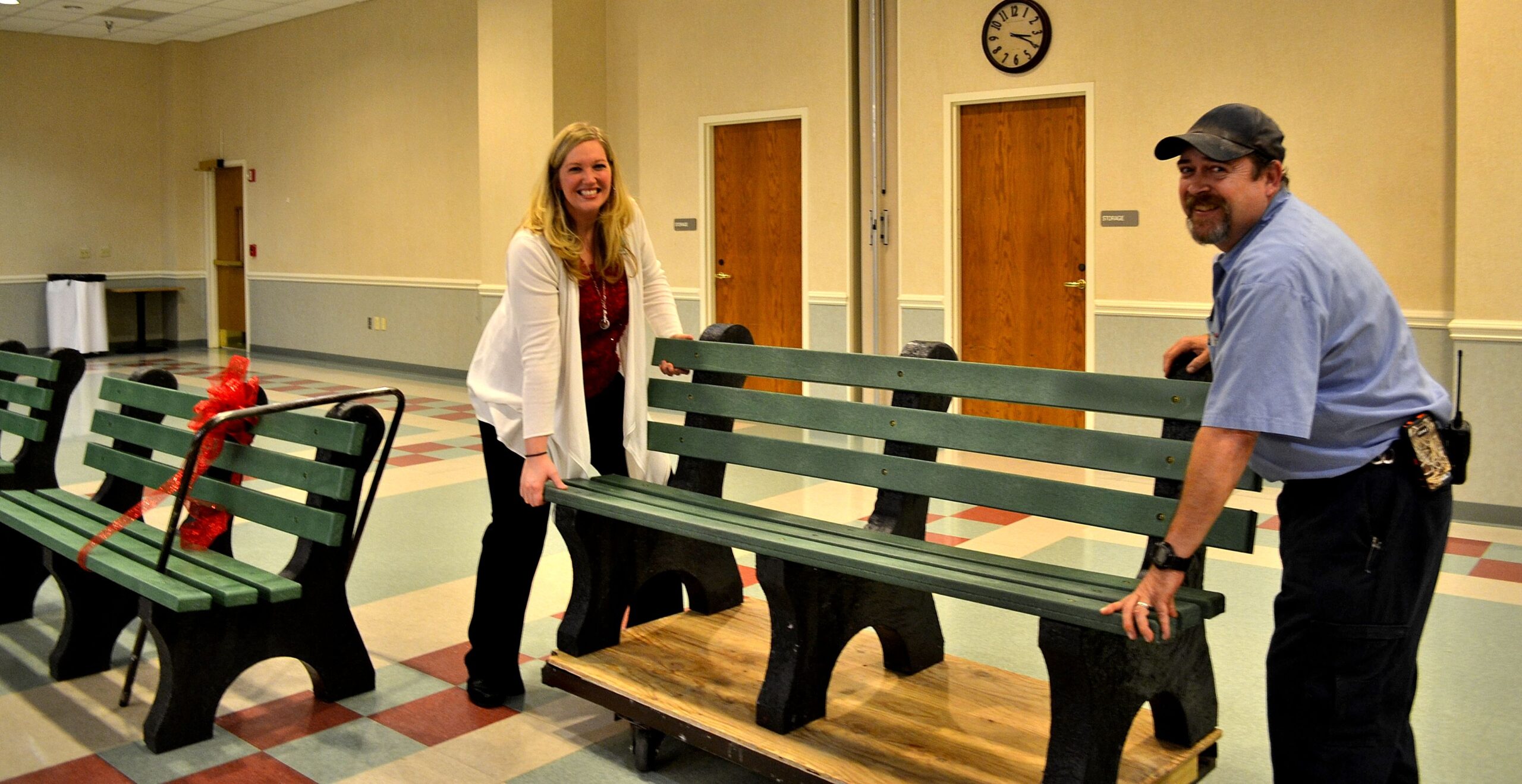 It's no easy (or tidy) task spending 100-plus hours sifting and sorting through bags stuffed with thousands of plastic caps from sodas, laundry detergent bottles, coffee cans and peanut butter jars, but when the end result is three new "green" benches for deaf and blind seniors, it's an undertaking that's truly gratifying.
Last year, Grace Ridge spearheaded a Community Bottle Cap Project and teamed up with Carolinas HealthCare System Blue Ridge, Simply Green Recycling Service and Robert L. Patton High School to collect plastic bottle caps and promote the importance of recycling.
"We wanted to collect enough bottle caps to make a recycled bench for the Alder Springs Senior Deaf and Blind Community," said Evelyn Beaver, life enrichment director. "We had an unbelievable response from the community – all over western North Carolina – and ended up collecting enough to make three benches. It's a great example of true community spirit."
Once volunteers sorted the 1,200-plus pounds of bottle caps and loaded them into the Grace Ridge van, Evelyn and co-worker Wanda Miller made the 500-mile trek to Evansville, Ind., where the caps were repurposed into benches at Green Tree Plastics. On Dec. 18, Grace Ridge staff presented three green benches – tied with a red bow – to representatives from North Carolina School for the Deaf at Morganton Foundation and the Senior Deaf & Blind Community.
Board Chairman Jerry Norvell gratefully accepted the benches and promised they will be put to good use when the new community opens early next year. "What an incredibly creative way for Grace Ridge residents to add quality of life for their peers at Alder Springs," he said. "When you consider that they inspired people of all ages from all over Morganton and Burke County to save and turn in their bottle caps to be recycled into these benches, it proves that there is widespread excitement about Alder Springs and it illustrates that the 'green movement' is alive and well here."
Passing the Cap
Now that the Community Bottle Cap Project is complete, Evelyn hopes to "pass the cap" to another group or business that's looking for a worthwhile community-service project. "It took a tremendous amount of coordination and work from many people, but it was such a rewarding and special experience," she said.
Another longtime Grace Ridge project that reflects the community's Good Mood sentiment is the recent groundbreaking of a Friendship Garden, located between the memory care and assisted living facilities.
More than $50,000 was raised over two years in conjunction with the Blue Ridge HealthCare Foundation through memorials and honoraria by and for residents and friends of Grace Ridge. The initial phase of the project began in August 2014, with widening the walkway and the addition of a koi pond given to Grace Ridge by resident J. Conley Mitchell to honor his brother and fellow resident, Harold.
Designed by Appalachian Naturescapes, the Friendship Garden will support the mountain lodge feel of Grace Ridge and will feature harvested boulders made of Virginia Fieldstone and a variety of colorful and fragrant plants and flowers.
"Nature elements like plants, sunshine, water, flowers and birds all help improve our sense of well-being and put us in a Good Mood," said Brenda Yost, executive director. "We want this area to be inviting for residents and their family members and friends to relax, visit and enjoy the outdoors."