Explore the Wonders of Wellness at Senior Fair, Oct. 4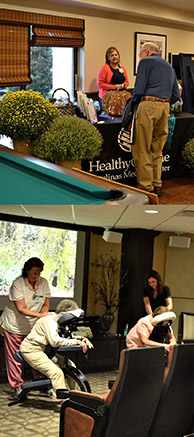 September marks the beginning of fall, but it's also a time to focus on healthy aging. Explore the wonders of wellness and learn how you can build healthier habits for an active lifestyle at Grace Ridge's Live Longer, Grow Stronger Senior Wellness Fair, Oct. 4.
"This is a continued celebration of September's Healthy Aging Month and our 4th year of bringing together community specialists in happiness and health," said Kelli Huggins, wellness director. "Helping our residents build healthier habits to thrive and stay active remains our top priority and hosting this fair helps us meet that goal."
She added, "It's also a chance for Grace Ridge to give back to the community by providing Morganton and Burke County seniors a chance to explore techniques, strategies and tips for aging well. The event is a one-stop shop for health, happiness and wellness needs."
Wellness Fair Highlights
Flu shots. Don't forget to bring your Medicare Part B card, medical insurance card or other form of payment.
Complimentary health screenings and assessments for balance, spine and sleep apnea.
Medication education booth, where you can learn about medication-medication and medication-food interactions.
Nutritional information and healthy samples from the culinary team.
Physician Presenters
Dr. William Bell from EmergeOrtho specializes in treating adult orthopedic problems from the shoulder to the hand.
Dr. Catherine Galida specializes in osteopathic manual therapy and acupuncture.
Dr. Steven L. Smith from Hickory Chiropractic Clinic specializes in chiropractic care with an emphasis on wellness.
Allison Thompson, PT, specializes in treating women who are having problems with pelvic floor health.
The Live Longer, Grow Stronger Senior Wellness Fair will be held 8:30 a.m. to noon, Thursday, Oct. 4, at Grace Ridge's Ervin Community Room located at 500 Lenoir Road in Morganton. The event is open to seniors aged 60-plus and is co-sponsored by Carolinas HealthCare System Healthy@Home and Carolinas HealthCare System Blue Ridge.
For more information or to RSVP, contact Kelli Huggins at 828-580-8404 or Kelli.Huggins@blueridgehealth.org.