Meet Dennis Gardin, Director of Plant Operations, Safety and Security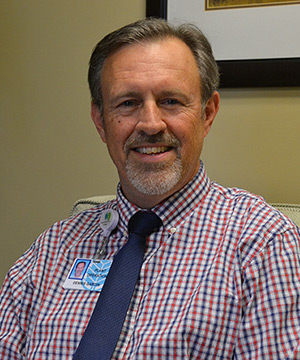 As Grace Ridge celebrates 30 years of good moods, good times and good life, we are shining the spotlight on the people who make up the heart of the community: our dedicated and compassionate employees. Today, we highlight Dennis Gardin, our Director of Plant Operations, Safety and Security.
Dennis is another long-term employee who has worked at Grace Ridge for nearly 22 years. He attributes his tenure to treating everyone with respect, doing a good job, meeting deadlines and being a good leader. Dennis feels great pride when residents and their families comment on the community's excellent maintenance as one of the reasons they chose Grace Ridge.
Dennis especially enjoys meeting residents and their families and learning about their careers, hobbies and families. If he didn't work at Grace Ridge, he said he would be working in a similar business where he can interact with people.
Award Winning Career
Dennis has been recognized multiple times for his outstanding work with Grace Ridge. He has received awards for being the Employee of the Quarter, a Tier One Leader (twice) and the #1 Team Leader in the resident satisfaction survey.
When Dennis is off-duty, he enjoys riding his motorcycle to unwind and building projects at his house.
Thank you, Dennis, and all of Grace Ridge's outstanding employees!