Grace Ridge committed to creating inclusive community for LGBT seniors
With just over 200 residents and an intimate 52-acre campus, Grace Ridge has always been an open arms and inclusive retirement community where neighbors become friends and friends become family.
Now, thanks to its recent accreditation as an LGBT-friendly senior living community, Grace Ridge can further demonstrate its commitment to meeting the needs of all older adults, including the growing lesbian, gay, bisexual and transgender population.
Supportive environment for LGBT seniors
The community recently became one of just five retirement communities in North Carolina to earn a SAGECare credential for successfully completing the training program for LGBT cultural competency.
"No one should be discriminated against or feel isolated. Being able to express yourself freely and share who you are is part of a quality-of-life experience every retirement community should provide," said Chris Romick, executive director. "We're proud our staff is now trained on best practices to foster a supportive environment for LGBT seniors, reduce and respond to bias behavior, and understand federal protections."
Intensive training for team members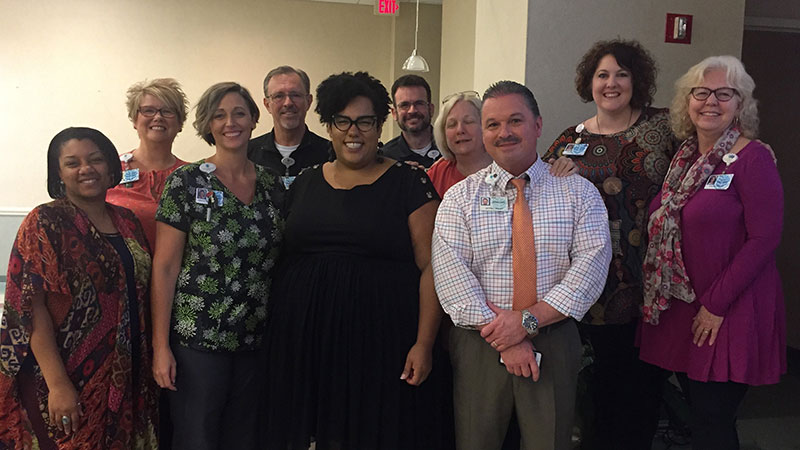 North Carolina is one of 26 states that doesn't prohibit housing discrimination based on sexual orientation or gender identity. The New York-based Advocacy & Services for LGBT Elders (SAGE) organization established its SAGECare training program for senior housing and senior care providers, centered on LGBT cultural competency.
Grace Ridge has joined the almost 300 senior care providers nationwide who've received the SAGECare credential, which involves a four-hour intensive training session for managers and one-hour in-person training program for frontline caregivers and team members.
Certification a "fantastic feature"
Local real estate agent and Foothills Pride President Jamie Hall said he's "truly humbled and overjoyed" by Grace Ridge's efforts to earn SAGECare certification.
"Elderly care is a major priority for all of society, and the LGBTQ+ community is now entering an era where we can live our advanced years with the same dignity, respect and assurance most others have been able to take for granted," he said. "That is all thanks to the major steps Grace Ridge and other communities are taking. Having a smaller community focused on inclusion is such a fantastic feature."
Read more about Grace Ridge's accreditation in the Morganton News and Hickory Record newspapers.
Nestled in the foothills of the beautiful Blue Ridge Mountains, Grace Ridge is a Life Plan Community spanning 52 pastoral acres in Morganton, North Carolina. Owned and operated by Carolinas HealthCare System Blue Ridge, our mission is to create a secure environment that supports individual choices and lifestyle, and our values contribute to our welcoming, positive attitude.
Come for a visit or call 828-580-8300 and find out why our community repeatedly garners awards, high rankings and superior satisfaction ratings as one of the best retirement communities in North Carolina.