Conley Mitchell: A Gardener for All Seasons
Resident Guest Blog by Frank Juliano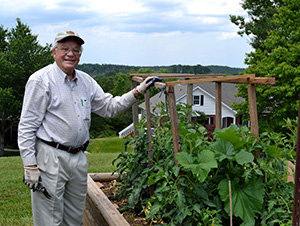 While most men give their sweethearts flowers from time to time, Conley Mitchell goes one step further. When Conley presents Millie with a bouquet, he often has grown the blossoms himself.
The lifelong hobby gardener prefers zinnias and marigolds, but his real specialty is fruits and vegetables. "I've grown vintage varieties of several vegetables, and I once had a 65-pound pumpkin," he said in a recent interview.
Tomatoes are a particular specialty now, and Grace Ridge residents have shared in the bounty, as Conley often puts his home-grown produce in the mail room, free for the taking.
"I've enjoyed gardening all my life, and my family and my parents always had gardens," he said.
Although he has a pickup truck and until this year a small plot of land in town, Conley said he is strictly a gardener, not a farmer. "Farming is a business. Gardening is a hobby," he said.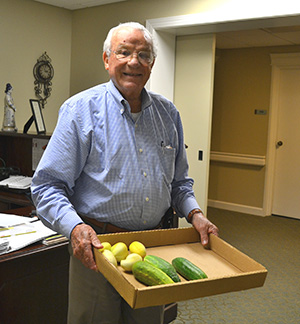 A retired executive of Drexel Heritage Furniture and a Grace Ridge resident for seven years, Conley said his other hobbies are golfing and fishing. But it's when he talks about growing fruits and vegetables that a twinkle comes into his bright blue eyes.
He gets three seasons out of his garden plot; the fall produces collards, sweet potatoes and pumpkins. This year Conley is doing his gardening in the raised beds here.
But besides his tomatoes, Grace Ridge residents seem to have a favorite among the vegetables Conley shares. "People here really seem to like okra," the veteran gardener mused.