New Technology Makes Resident Connections, Communications Easy
Campus-Wide Entertainment and Engagement
During a recent late-night visit to Grace Ridge Retirement Community's health care wing, Executive Director Chris Romick got caught up in a lively game of "Name That Tune" with assisted living residents.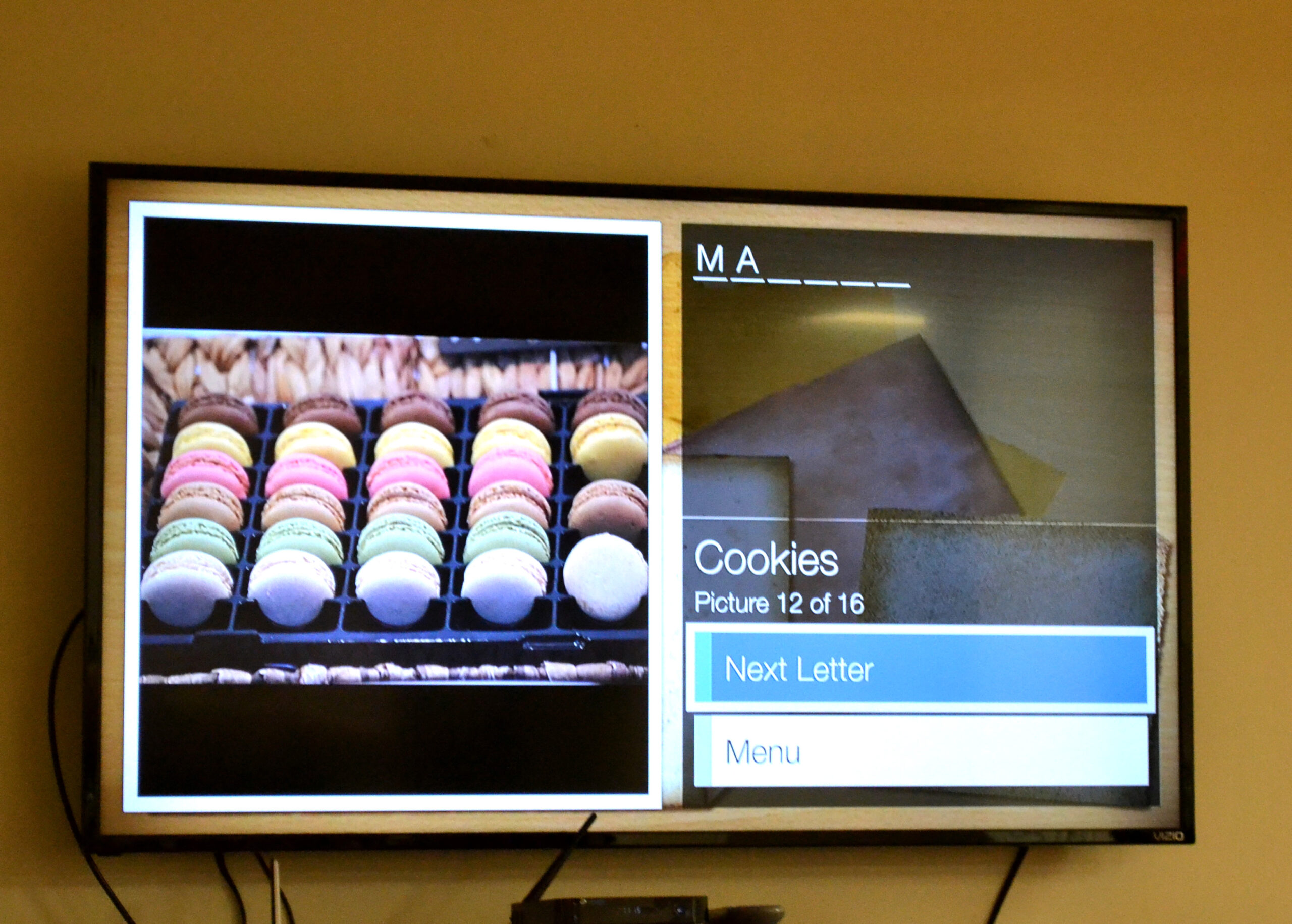 "It was hilarious because they blew me away with their knowledge of 1950s music. And the best part is, we didn't need any complicated devices to play. All we needed was a simple remote control and television," he said.
Games are just one example of the on-demand activities available through LifeShare Technologies. The campus-wide system is designed to enrich residents' living experiences and help them stay better connected with family and friends.
Large televisions in independent living, assisted living and memory care play videos, music, faith programs, news, weather and podcasts. The technology also displays photos, menus, activity calendars, announcements, birthdays and memorial recognitions.
"Both residents and staff are responding well to this new communication system, especially since it's so easy use. Everyone loves seeing photos from all the events and activities happening in and out of our community," Romick said.
Mobile App Offers Constant Connection
The system's mobile apps – designated for independent living, skilled nursing and memory care – give family members a convenient communication tool to stay connected with loved ones and care providers.
"Once family members download the free app, they can see scheduled activities, dining menus, photos and any community announcements as soon as they're made," Romick said. "Guests coming to visit a resident for lunch can look at the app to see what's on the menu and what events are planned for that day."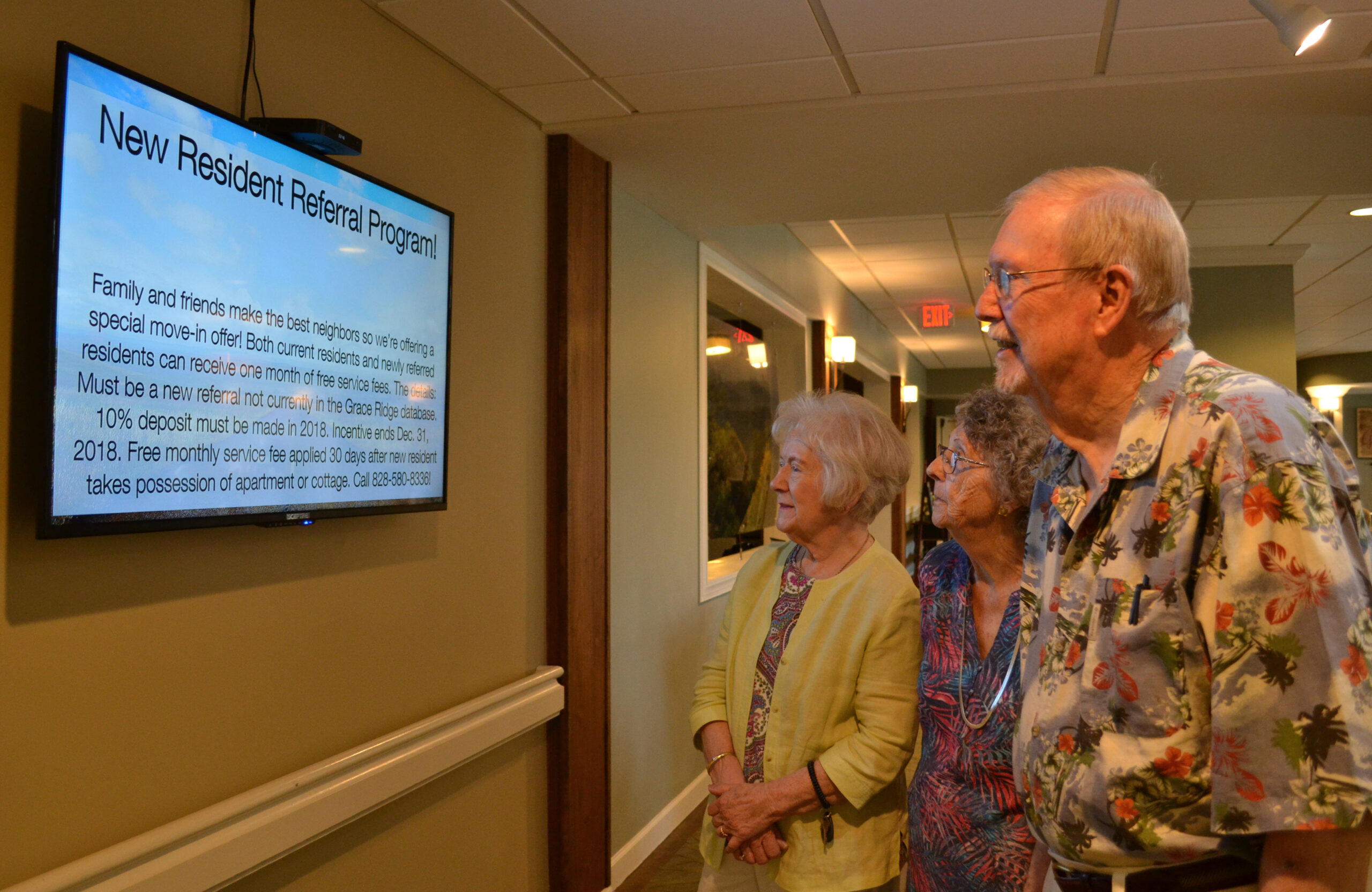 Technology Makes Family Connections Easy
Residents also have the option of adding the technology in their home. "This is an extra amenity many residents are interested in because they can look at anything displayed on the TVs downstairs from their living room," Romick said.
He added, "The other neat thing is they can use their existing television to easily share photos with their loved ones. Let's say a resident's grandkids want to send her some photos. They can do that through an email displayed on her TV. When grandma turns it on, it will tell her she has new photos she can view on a large screen."
Goodbye Manual Sign-In Book, Hello Automated Kiosk
Grace Ridge also is replacing the paper log book at front reception with Accushield, a visitor management system. Families, friends, third-party caregivers and other vendors will use a touchscreen to sign in and out. A sign-in tablet capture everyone's photo and prints a visitor's badge.
Not only will the new system simplify the sign-in process, it will help improve community security by verifying the credentials of outside vendors through instant background and license checks.
"The system gives us current and instant occupancy in the building. Our management team can quickly see – from a computer, phone or tablet – a list of visitors and residents in the community at any given moment," Romick said. "We can also be notified via text or email of any red flags or when specified visitors sign-in."
One of the coolest features of the new system, however, has less to do with security and more to do making sure residents are getting plenty of attention.
"The Love Meter allows us to run a report to see which residents have had the fewest visitors," Romick said. "Our staff can give those residents some special treatment so they don't feel isolated. We're like family around here and want to be sure everyone always feels loved and connected."