Good People: Meet Charity Elliott, Life Enrichment Social Worker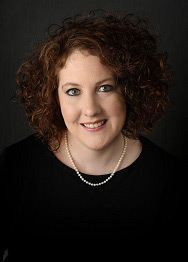 As Grace Ridge celebrates 30 years of good moods, good times and good life, we are shining the spotlight on the people who make up the heart of the community: our dedicated and compassionate employees. Today, we highlight Charity Elliott, our Life Enrichment Social Worker.
Charity has worked at Grace Ridge for 10 years and said the best part about her job is loving and caring for families and residents through the journey of life. She feels a genuine appreciation from the families and residents with whom she has the pleasure of working. Charity believes that Grace Ridge is an excellent place to work because every day brings a new challenge. She treasures the many great stories that she has in her heart and says her days at Grace Ridge are blessed.
Charity has been recognized for her outstanding work at Grace Ridge and in the field of social work. In 2015, she received the LeadingAge North Carolina Service Excellence Award and the Carolinas Healthcare System's Pinnacle Award, which is given to Carolinas Healthcare teammates who best exemplify the core values of caring, commitment, integrity and teamwork.
When Charity isn't helping enrich the lives of Grace Ridge residents, she loves spending time at home with her husband and three children, singing in the church choir, serving as a hospice volunteer ambassador and sipping a hot cup of coffee or an occasional glass of wine. If she didn't work at Grace Ridge, Charity says she would get her cosmetology license and open a backyard beauty shop.
Thank you, Charity, and all of Grace Ridge's outstanding employees!