Resident Spotlight: Celebrating Six Decades of Love and Marriage
After 60-plus years together, it's fair to say these three Grace Ridge couples have mastered the art of love and marriage. In celebration of Valentine's Day, we asked Rudy and Carolyn Bell, Bob and Sis Erwin, and John and Jane Greene to reflect on their time together.
Rudy and Carolyn Bell
Married since June 1955
Grace Ridge residents since 2004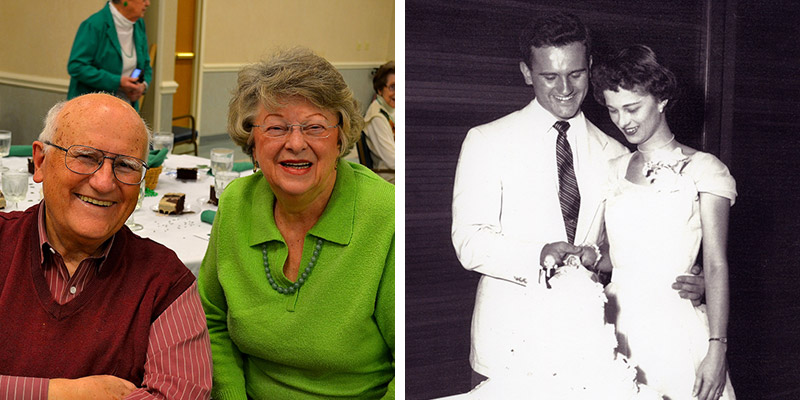 Rudy and Carolyn met while in college during a hot and muggy Washington, D.C. summer when they both took jobs at the Marriott Hot Shoppes restaurant. Their first date was spent at the beach on a day off from work.
At age 22, they got married during an evening candlelight service at Holy Trinity Reformed Church in Concord, NC. Rudy worked as a management trainee for J.C. Penney and Carolyn taught first grade; they went on to have five children who gave them "10 lovely grands."
After all these years, Carolyn thinks her husband is handsome as ever and also describes him as "kindhearted" and "hardworking." Their secret for maintaining a long and happy marriage? "Knowing and appreciating your partner's strengths and weaknesses, likes and dislikes." Carolyn adds, "Of course, love and forgiveness overcome all problems."
Bob and Sis Erwin
Married since June 1954
Grace Ridge residents since 2008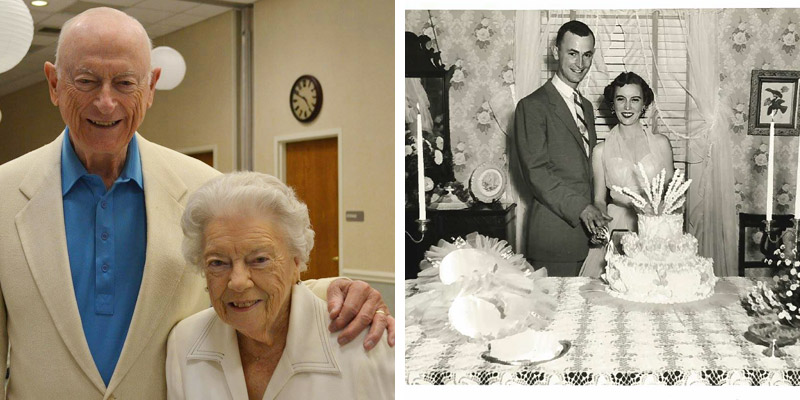 Bob and Sis met in high school, but it took several years for him to work up the courage to ask her out. When they were college seniors, Bob asked Sis to be his date at the Spring Frolic dance at Davidson College. Sis was attending The University of North Carolina at Greensboro and had dated a couple of Bob's fraternity brothers – and he was "impressed" with her.
When the dance ended at midnight, they decided to drive five hours to Myrtle Beach, SC, with two other couples to spend time at a friend's family beach house. By the end of the weekend, Bob told his roommate, "That is the girl I want to marry some day." They married two years later, when Bob returned from serving overseas in the Army, at the First United Methodist Church in Morganton.
In 2004, the travel-loving couple took their two sons, daughters-in-law and six grandchildren on an Alaskan cruise to celebrate their 50th anniversary. The couple adds, "You blink your eyes and turn around, and before you know it, 63 wonderful years have gone by."
John and Jane Greene
Married since August 1956
Grace Ridge residents since 2013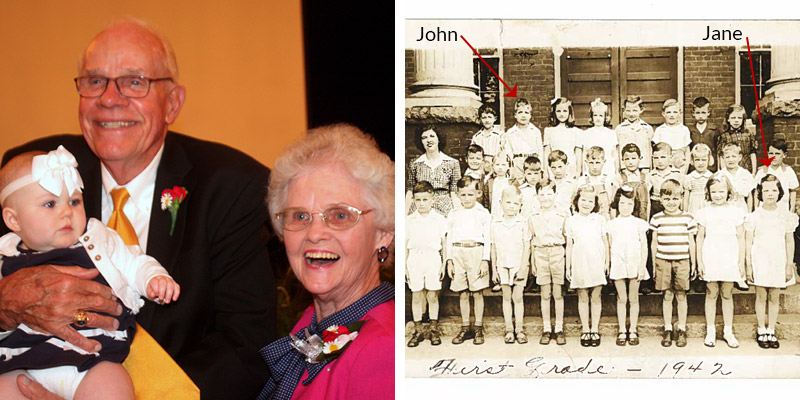 Not many people can say they met their future spouse in the first grade, but that's when John and Jane first crossed paths. It wasn't until many years later – at Morganton High School's junior-senior prom – they would have their first date. They married shortly after high school, when Jane was 20 and John was 21, at a late-morning ceremony at the First Baptist Church in Morganton, followed by a wedding breakfast at the Community House.
Since 1963, John has worked for the family's automotive dealership, John Greene Chrysler Dodge Jeep. Jane relished her time as a homemaker and mother of two children and now especially enjoys visits with her six grandchildren and nine great-grandchildren.
The key to a long and happy relationship, they said, is to "be willing to compromise." It also helps they both describe the other as "caring." (John adds that Jane is "considerate" and "pretty," while Jane says John is "helpful" and "neat.") Their marriage advice to other couples is simple: "Enjoy being together, whatever you are doing."