Friend. Coach. Cheerleader. Multitasker. Therapist. Advice-giver. Motherhood entails a long list of unofficial jobs that may or may not have to do with actual parenting! Mother's Day is a celebration of the loving, caring, talented women we know who exemplify the role of mothers in our lives. They may be our biological mother, and they may also be grandmothers, stepmothers, wives, sisters, daughters, aunts and friends. The second Sunday in May is the annual commemoration of Mother's Day, and this year it falls on May 9.
Sometimes It's the Little Things
Many of us have been forced to spend time apart from our families because of concerns about COVID-19. If you won't be seeing your mom in person for Mother's Day, you can still show your love and appreciation, and of course you don't have to limit it to just one day. Most moms simply wish to connect with their children and remain part of their lives in any way possible. A phone call or a video chat is the simplest and safest way to stay in touch.
Always Adapt to Your Mom's Needs
If you're able to spend time together in person, but your mom is in a care facility and not especially  active due to health or other health limitations, be sensitive as to what kind of activity you plan. Try to stay flexible, and don't do things that would overtire her. Sit with her in the gardens, over a meal in the dining room, or with friends in a common area. Sometimes a simple change of scenery works wonders, and an outing to the familiar setting of a family member's home might be the best present she could ask for.
A simple way to enjoy each other's company is to bring over old family albums. Reminisce about happy times, share stories and ask questions. It's also fun to involve other members of the family in a low-key activity that everyone can do with Mom. For example, you could all do a puzzle, or play cards or a board game together. Each read aloud from a book of their choice. Or all relax together while watching a favorite movie or TV show.
Sharing a relaxed meal is another good option for celebrating Mother's Day if your mom needs to stay indoors. Most women are used to being busy in the kitchen, so it will be a treat for her if you visit her in her residence with all the ingredients you need for her favorite dish. Let her relax while you prepare and cook it and handle all the cleanup. You could even go all out with flowers, candles and fancy china.
Seniors who are mobile enough for an outing may like to venture out. Be guided by her interests and again, don't over plan. If the weather's fine, pack a picnic basket and head to a park with your mom. Enjoy the sunshine and let the grandkids play while you visit with her. A leisurely walk through a shopping mall for window-shopping and people-watching  can also be very enjoyable. Outdoor malls are a good option if the weather is nice, and indoor malls are climate-controlled with plenty of places to sit, get a snack or drink, or take a toilet break. Museums and art galleries offer peaceful indoor venues where there's lots to look at and talk about together.
Never Miss A Chance to Gift
Moms who are tech-savvy may like the gift of a new tablet, smartphone or other mobile device. These offer a light and portable way to keep in touch with family members and friends, as well as providing access to movies, books and other forms of entertainment. Help your mother set it up and be prepared for a few calls for help as she gets used to using it. Here are some other ideas for gifts to give or activities to do with Mom.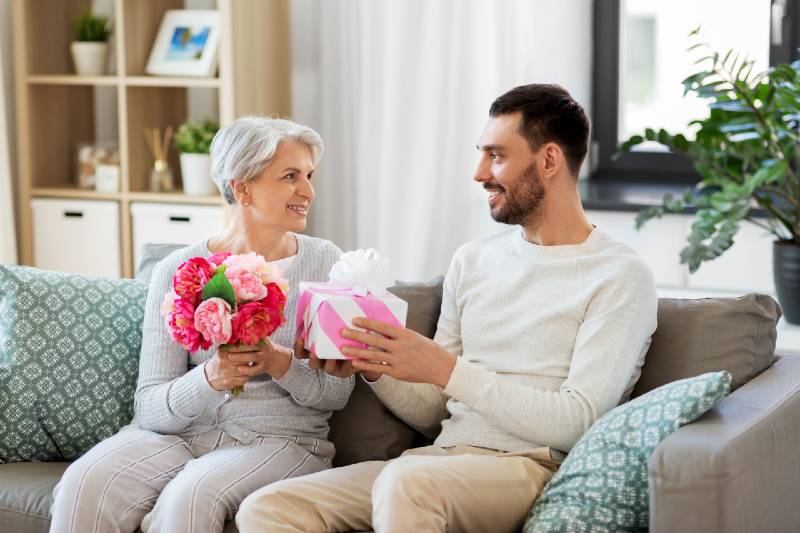 Gift and Activity Ideas
Contrary to popular belief, the Hallmark company did not invent

Mother's Day

. But a

Hallmark card

is certainly a classic way to say "Thanks" and

celebrate mom

or other woman with whom you  have a maternal bond.

Baking a cake for mom on

Mother's Day

is a tradition in some countries. Get your kids to help you bake and decorate a cake or cookies from scratch and deliver it as a gift.

Customize a photo gift on a site like

Shutterfly

. A mug, sofa pillow or calendar featuring family photos will help her feel connected to the family all year long.  

Put together a gift box of items for pampering and self-care. Think nail polish, bath soaps, candles and comfy socks. Or find one already assembled on a site like

Etsy

.   

Gift certificates are an easy way to spoil the woman who has everything. Get one for a spa day at a favorite salon or a meal at her favorite restaurant.

Decorate your mom's door or front porch with streamers, special signs, a wreath or flowers.

Breakfast in bed is a classic

Mother's Day

indulgence. Drop off the ingredients for breakfast — croissants, jams, quiche, mimosas — and join her on Zoom with other members of the family.

Give her the night off from cooking. Drop off a casserole dinner or takeout from her favorite restaurant.

Put on a

virtual

talent show with other members of the family, especially grandchildren. Sing her favorite song or include puns about something she likes to do to add humor.   

Get each grandchild to record a message starting with, "I appreciate you because…" and ending with "Happy

Mother's Day

!" If you have iMovie, you can splice the videos together.

Set up a

virtual

movie night, by watching the same movie together on your computers at the same time. Send her theater-style treats like popcorn and hot chocolate mix beforehand. If you both have Netflix and Chrome installed, use the

Teleparty function

to synchronize playback and text each other in a group chat.

Travel around the world with your mom on a virtual tour. Visit the Louvre in Paris or tour the Vatican in Rome. Walk around the residences and halls of the White House or take a trip through time at the British Museum.
Whatever you choose to do or give, in person or virtually, it's truly the thought that counts. At Grace Ridge, we think a single day to honor mothers is simply not enough. We take the whole month of May to express our appreciation and love for all our Grace Ridge mothers. From music performances to surprise gifts to an extravagant Mother's Day brunch in our dining room, we love thinking up creative ways to acknowledge the special women in our senior living community. Want to learn more about our fun, lively and nurturing lifestyle? Give us a call at 828-580-8300.