Activities for Seniors to Celebrate Veterans Day
Veterans Day was first known as Armistice Day. It commemorated the World War I armistice between the allies and Germany that went into effect on the eleventh hour of the eleventh day of the eleventh month. Later, the name was changed to Veterans Day, and in the United States, it's always celebrated on November 11.
While Memorial Day is also a time to honor fallen soldiers, the importance of Veterans Day is it honors all veterans who served the United States during times of war or peace. Memorial Day is a time to remember those who gave their lives in battle or died from wounds they suffered in battle.
This post will discuss ways of commemorating Veterans Day and saying "thank-you" to the women and men in uniform, including some activities for senior citizens to celebrate Veterans Day.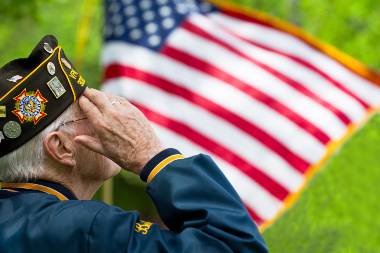 Honoring Veterans Day
Every part of the country is different, but there are a variety of large and small ways you can celebrate veterans. Due to COVID-19 some in-person Veterans Day programs for seniors and their families may be cancelled or postponed, so be sure to check before heading out. Here are a few suggestions:
Attend a local parade: This is a great time to dress up in your most patriotic red, white and blue outfit and celebrate those who served in the military. If you have a chance to speak with them after the parade, be sure to thank them personally for their service. After all, our veterans are why we're able to continue to enjoy freedom in our country.
Community event or luncheon: Many organizations and clubs will host community events, lunches and other activities for senior citizens to celebrate Veterans Day and honor local service members. If you're looking for something more active, you can also participate in Morganton's Annual Gift of Giving 5K that benefits veterans.
Donate to a veterans fund: If you're looking for a low-key way to honor veterans, consider donating to a charity that serves them. There are many great organizations both locally and nationally that serve this deserving population, including:
DAV (Disabled American Veterans) Charitable Service Trust: DAV is a nonprofit charity that provides a lifetime of support for veterans of all generations and their families, and helps more than 1 million people each year. They provide rides, attend medical appointments and assist with benefit claims.
Wounded Warrior Project: They support veterans who have been wounded during service with free programs and services to address the unique needs of wounded veterans and their families.
Visit a memorial: If you're looking for a place to quietly reflect on your own service or the service of a friend or family member, there are two veterans memorials at the Burke County Courthouse at 201 South Green Street in downtown Morganton.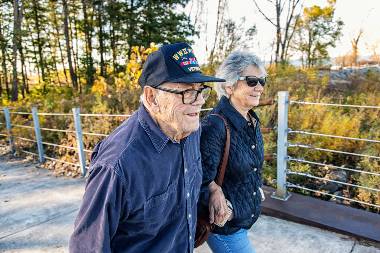 Honoring Seniors of All Backgrounds
At Grace Ridge, our diverse group of residents enjoy an active and engaging retirement. If you want to learn more about our lifestyle — including how we honor those who served through Veterans Day programs for seniors — contact us